Ducati Diavel Service Manual: Exhaust system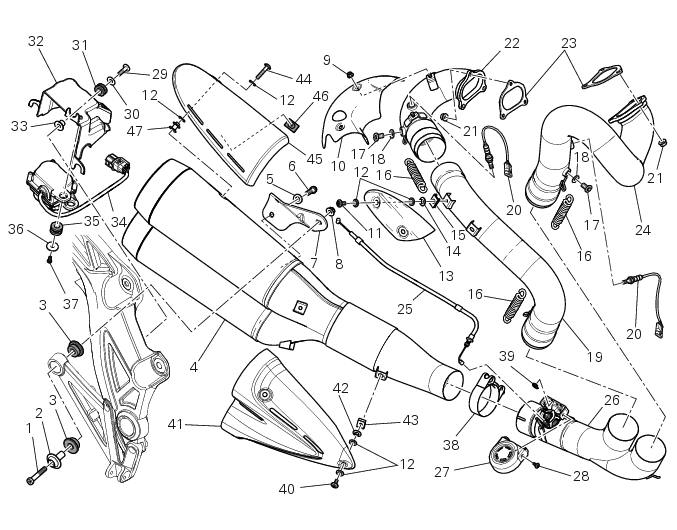 Screw
Bush
Vibration damper mount
Silencer
Washer
Screw
Bracket
Nut
Nut
Upper heat guard
Screw
Washer
Central heat guard
Spacer
Clip nut
Long exhaust spring
Plug
Sealing washer, thickness 1
Vertical exhaust pipe
Lambda sensor
Nut
Vertical flange
Exhaust gasket
Horizontal flange
Flexible cable
Central exhaust pipe
Exhaust protection
Screw
Screw
Washer
Rubber pad
Support
Spacer
Exhaust valve motor
Rubber pad
Washer
Screw
Clamp
Circlip
Screw
Lower heat guard
Spacer
Quick-release fastener
Screw
Upper heat guard
Rubber mounting
Spacer
Spare parts catalogue
Diavel abs exhaust system
Diavel carbon abs exhaust system
Important
Bold reference numbers in this section identify parts not shown in the figures alongside the text, but which can be found in the exploded view diagram.
Apply universal sealant in the air duct (2) and (6) groove (d). Fit seal (7) in the groove (d) having care to place it correctly in the relevant seat so as to avoid abnormal wrinkles. Pull o ...
Loosen the clamp (38) that retains the silencer (4) to the complete exhaust system. While holding the nut (8), loosen the screw (1) and remove the silencer (4) from the motorcycle. Loose ...
Other materials:
Reassembly of the clutch-side crankcase cover
Fit the plug (14) and the gasket (13). Fit the plug (17) and the gasket (15). If the bush has been replaced, fully seat the new bush (7) in the slot in the cover using a suitable drift and a press. If the sealing ring (8) needs to be renewed, fit the new seal into the crankcase cover, po ...
Clutch
Screw Ring Clutch spring Pressure plate Bearing Circlips Nut Belleville washer Clutch plates Belleville washer Flat ring Clutch centre Spacer Clutch lifter Spare parts catalogue Diavel abs clutch Diavel carbon abs clutch Important Bold reference numbers in t ...
Removing the frame and the lateral footrests
Loosen the two special screws (6) to separate the frame (1) from the lateral brackets (2) and (3). On the left side of the vehicle block retaining pins (9) and loosen the nuts (8) on the right side at the same time. Slide out the retaining pins (9) and remove the frame (1) from the lateral ...