Ducati Diavel Owners Manual: "Parking" function
This function activates the "parkin"h mode.
The "parkin"h function activates the front and rear parking lights when the vehicle is turned off so it is visible when parked.
The function is activated by pressing the button (2, fig. 14) ?"´" for 3 seconds during the first 60 seconds after the motorcycle was turned off.
Once the function is activated, the indication will remain on the circular display for 5 seconds and the lights will remain on for 2 hours. After 2 hours, then will turn off automatically.
To interrupt the function, turn the vehicle on and off (key-on / key-off).

Note
If there is a sudden interruption in the battery while the function is active, the instrument panel will disable the function when the voltage is restored.

Warning
The frequent use of this function can considerably reduce the battery charge; ducati recommends using this function only when necessary.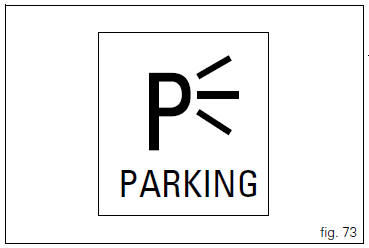 The instrument panel controls the automatic reset of the turn indicators. After activating one of the two turn indicators, they can be deactivated using the reset button (12, fig. 12). If the ...
This function informs that the steering is in position for turning on the steering lock. The sensors detect that the steering is in position during the first 60 seconds after turning off the vehi ...
Other materials:
Tips for use on the track
We recommend level 8 be used for a couple of full laps (to allow the tyres to warm up) in order to get used to the system. Then try levels 7, 6, etc., In succession until you identify the dtc intervention level that suits you best (always try each level for at least two laps to allow the tyres t ...
Injection relay
Introduction The fuel pump, injectors and ignition coils are all powered via the injection relay. The relay also sends voltage to the engine control unit, which enables activation of the relay itself. Component assembling position A injection relay; b etv relay (throttle valve actuator mot ...
Indication of range reached for service
When service coupon threshold is achieved, upon every key- on the system displays the indication of the type of intervention that is required (oil service or desmo service). The (red) warning is activated as a large icon for 10 seconds upon every key-on (1, fig. 33) Then as a small warning th ...