Ducati Diavel Service Manual: Adjusting the front fork
The front fork used on this motorcycle has rebound, compression and spring preload adjustment.
This adjustment is done using the outer adjusters:
Rebound damping;
Inner spring preload;
Compression damping.
Park the motorcycle in a stable position on its side stand.
Turn the adjuster (1) on fork leg top with a flat screwdriver to adjust rebound damping.
On the carbon model, adjustment is done using the knob (b) on the fork leg, without a screwdriver.
Turn the adjuster (3) on fork leg bottom with a flat screwdriver to adjust compression damping.
As you turn the adjusters (1) and (3), you will hear them click. Each click corresponds to different damping setting.
The stiffest damping setting is obtained with the adjuster turned fully clockwise to the "0" position. Starting from this position, turning counter clockwise, you can count the turns.
To change preload of the spring inside each fork leg, turn the hex. Adjuster (2) with a 22 mm hexagon wrench, starting from the fully open position (clockwise). From reference (a), every full turn clockwise corresponds to 1 mm of preload of the spring, up to a maximum of 15 mm, corresponding to 3 full turns.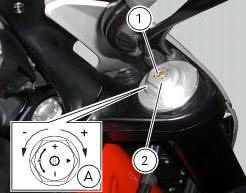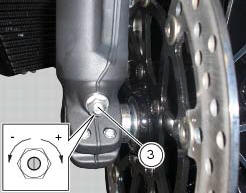 Standard settings, from fully open position, are as follows: compression: 1 turn and a half; rebound: 1 and a half turns.
Spring preload: fully open (counter clockwise).
Important
Adjust both fork legs to same settings.
The position of the gear change and rear brake pedals in relation to the footrests can be adjusted to suit the preferred riding position. To modify the gear change pedal position act in the foll ...
The adjuster (1) located on the lower connection holding the shock absorber to the swingarm adjusts the damping during the rebound phase (return). The knob (2), located on the left side of the m ...
Other materials:
Front brake control
Front brake master cylinder Brake lever Special screw Sealing washer Screw Phonic wheel Brake disc Pin Left brake calliper Boot Bleed valve Spare stand Control unit - front callipers pipe Microswitch Oil duct union Screw Hose clip Right brake calliper Speci ...
Start procedure with pin code (no keys)
The motorcycle may be started without keys with a special procedure using the dashboard and the switches on the handlebar. Note This procedure is only possible if the pin code has been enabled previously. For security reasons, the pin code is disabled by default when the vehicle leaves the f ...
Flywheel - alternator
Screw Alternator stator Plug Sealing ring O-ring Cover Screw Aluminium gasket Screw Bracket Locating bush Screw generator cover Flange Flanged nut Plane washer Flywheel Washer Inner ring Needle roller bearing Electric starter driven gear Starter clutc ...