Ducati Diavel Service Manual: Adjusting the position of the gear change and rear brake pedals
The position of the gear change and rear brake pedals in relation to the footrests can be adjusted to suit the preferred riding position.
To modify the gear change pedal position act in the following mode: hold the linkage (1) and slacken the counter nuts (2) and (3).
Note
Nut (2) has a left-hand thread.
Fit an open-end wrench to hexagonal element of linkage (1) and rotate until setting pedal in the desired position.
Tighten both check nuts onto linkage.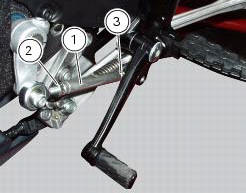 To adjust the position of the rear brake pedal, proceed as follows.
Loosen counter nut (4).
Turn pedal travel adjusting screw (5) until pedal is in the desired position.
Tighten the counter nut (4).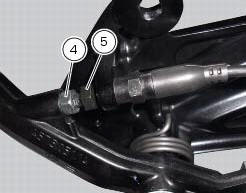 Work pedal by hand to make sure it has 1.5 - 2 Mm free play before brake begins to bite.
If not, check to modify the length of the cylinder push-rod in the following mode.
Slacken off the counter nut (7) on the pushrod.
Screw the rod into the fork (6) to increase play, or unscrew it to reduce play.
Tighten the counter nut (7) and recheck the pedal free play.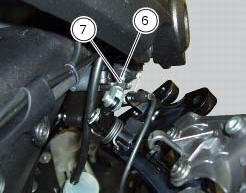 The clutch lever (1) is fitted with a span adjuster (2) which serves to alter the distance of the lever from the handlebar. The lever distance can be adjusted through 10 clicks of the dial (2). T ...
The front fork used on this motorcycle has rebound, compression and spring preload adjustment. This adjustment is done using the outer adjusters: Rebound damping; Inner spring preload; Co ...
Other materials:
Refitting the shock absorber support
If you had removed them, apply recommended grease on the threads of the adjusters (4) and the ring nuts (3) having care not to have grease on the surface (c) of the adjusters. Tighten the adjusters on the ring nut side opposite to that featuring flats until bringing the surfaces as close as ...
Hands free key (hf) not recognised
The activation of this (amber yellow) "warning" indicates that the hands free system does not detect the active key (1, fig. 62) Near the vehicle. Note In this case, ducati recommends checking that the active key (1, fig. 62) Is near the vehicle (and has not been lost) and that it f ...
Riding style function (riding style change)
This function changes the motorcycle riding style. Each riding style is associated with a different intervention level of the traction control (dtc - ducati traction control) and different engine power and output. To change the motorcycle riding mode, press the reset button once (12, fig. 1 ...