Ducati Diavel Service Manual: Adjusting the rear shock absorber
The adjuster (1) located on the lower connection holding the shock absorber to the swingarm adjusts the damping during the rebound phase (return).
The knob (2), located on the left side of the motorcycle, adjusts the preload of the shock absorber external spring.
Turn the adjuster (1) clockwise to increase damping h; or counter clockwise to reduce damping s.
Standard setting from the fully closed position (clockwise): -unscrew adjuster (1) by 8 clicks.
Spring preload: 15 mm.
The two nuts (2) on the upper part of the shock absorber serve to adjust the preload on the external spring. To change spring preload, slacken the upper locking ring nut. Then tighten or slacken the lower ring nut to increase or decrease spring preload.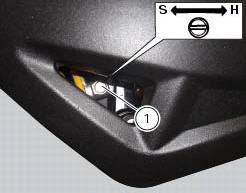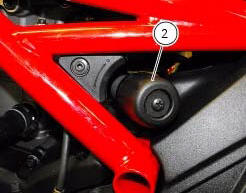 Important
The knob (3) located on the expansion reservoir of the shock absorber adjusts the damping during the compression phase.
Turning the adjusters (1) or the knobs (2) and (3) clockwise to increase preload damping; they decrease turning them in the opposite direction.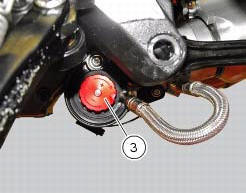 Standard setting: from fully closed (clockwise) loosen: register (1) of 12 clicks; knob (2) fully open (counter clockwise); register (3) of 25 clicks.
Spring preload: 18 mm (max.18 Mm - min.25 Mm
Warning
The shock absorber is filled with high-pressure gas and can cause injuries if inexpertly dismantled.
Important
If the motorcycle is to be ridden with a pillion rider and luggage, we recommend setting the rear shock absorber spring preload to the maximum to ensure the best handling and proper ground clearance at all times. It may also be necessary to adjust the rebound damping accordingly.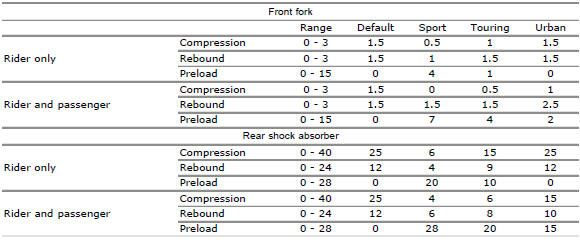 The front fork used on this motorcycle has rebound, compression and spring preload adjustment. This adjustment is done using the outer adjusters: Rebound damping; Inner spring preload; Co ...
Other materials:
Main bearings
The main bearings have are of the angular contact type with offset inner races so that the balls transmit loads from one groove to the other along straight lines at an angle to the axis of the bearing. The angle-contact ball bearings are designed for bearing combined loading (radial-axial load ...
Rear brake
Rear speed sensor (abs) Screw Washer Spring Brake switch (rear) Brake lever (rear) Rear pump - control unit pipe Sealing washer Pin Bush O-ring Screw screw Rear brake disc Rear brake calliper Rear brake master cylinder Hose clip Pushrod Screw Rubber pad ...
Draining the clutch hydraulic circuit
Warning Clutch fluid will damage painted surfaces if spilled on them. It is also very harmful if it comes into contact with the skin or with the eyes; in the case of accidental contact, wash the affected area thoroughly with plenty of running water. Remove the dust cap to expose the bleed val ...