Ducati Diavel Service Manual: Bleeding of the abs hydraulic system
If some "sponginess" is detected on the brake control, due to air bubbles in the system, bleed the system, as indicated in sect. 4 - 3, Changing the brake fluid.
Before bleeding a brake pump, move back the calliper pistons, as indicated in (sect. 4 - 3, Changing the brake fluid) to Drain in the pump the air collected near the abs control unit purge must be carried out by means of the corresponding joints (a) placed near the callipers and the brake pumps.
Important
Do not undo the fixing screws of the joints of the pipes on the abs hydraulic control unit, unless control unit replacement is necessary.
Important
If the abs control unit is replaced, this must be supplied with secondary circuit already full of fluid; the control unit must be fitted and the system filled and bleeded as a traditional system.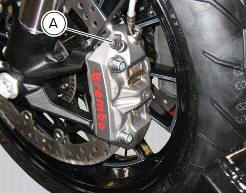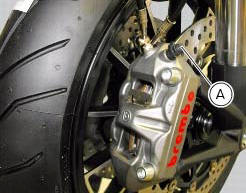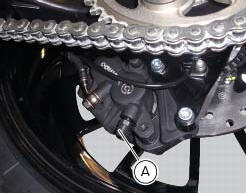 (For front as well as rear sensor) in each case of maintenance that foresees: Replacement or refitting of the wheel Replacement or refitting of the phonic wheel (1) or (2) Replacement or refit ...
Other materials:
Removal of the clutch-side crankcase cover
Unscrew the screws (2), (3) and (5) securing the clutch-side crankcase cover (1). Tap around the edge of the cover with a plastic mallet to detach it from the crankcase half. Remove the clutch cover (1) paying attention to the centring bushing (12). Check the condition of the cent ...
Refitting the front sprocket
Grease the o-ring (16) and install it on the front sprocket spacer (15). Fit the spacer, from the o-ring side, on the secondary shaft and drive it fully home against the inner ring of the bearing. Check that the splines of the gearbox secondary shaft and the sprocket are in perfect condi ...
Overhaul of cylinder head components
Cylinder heads Remove any carbon deposits from the combustion chamber and its ducts. Remove any scale from the coolant ducts. Check for cracking and inspect the sealing surfaces for scoring, ridges or other damage. Check that the cylinder barrel mating surfaces of the cylinder head are ...