Ducati Diavel Owners Manual: Cleaning and replacing the spark plugs
Spark plugs are essential to smooth engine running and should be checked at regular intervals.
The condition of the spark plugs provides a good indication of how well the engine is running.
Have the spark plugs inspected or replaced at a ducati dealer or authorised service centre; they will check the colour of the ceramic insulator of the central electrode (1): an even brown colour is a sign that the engine is in good running order.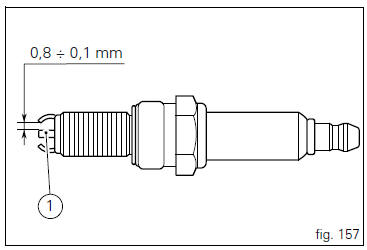 Note
Inspect the centre electrode for wear and check spark plug gap, which should be: 0.8×0.1 Mm.

Important
A gap outside the specified limits will adversely affect engine performance and may lead to difficult starting or erratic idling.
Check the engine oil level through the sight glass (1) on the clutch cover. When checking oil level, the motorcycle should be perfectly upright and the engine cold. The oil level should be between ...
To preserve the finish of metal parts and paintwork, wash and clean your motorcycle at regular intervals, anyway according to the road conditions you ride in. Use specific products, where possible ...
Other materials:
Refitting the rear wheel
Lubricate the wheel shaft threaded end with prescribed grease. Insert the wheel shaft by matching (a) with pins (b). Install spacer (3) with the conical surface faced to the wheel conical surface, washer (2), apply prescribed grease to nut (1) and insert it by hand (1). Tighten the ...
Refitting the fuel tank fairings
Make sure that the following components are fitted on the tank fairing (22): Spacers (18); Seals (20). Fit the clips (19) to the central cover (22) at the positions shown, inserting the tabs (h) into the slots (l). Apply threadlocker to the screws (14). Place the tank fairing (22) ...
Absolute pressure sensors
Introduction The engine control system of the diavel is equipped with two absolute pressure sensors, with one connected to the intake duct of each cylinder (map 1 cylinder 1 - horizontal - map 2 cylinder 2 - vertical). They are used by the control unit to determine the quantity of fuel to be ...