Ducati Diavel Service Manual: Description of the clutch assembly
The clutch is disengaged by a drive unit consisting of a thrust piston (c) accommodated inside a small cap mounted to the generator cover. This piston (c) pushes a pushrod (b), which runs through gearbox primary shaft and operates the Pressure plate (4) located on top of the clutch plate pack (9).
Drive is transmitted from the crankshaft to the gearbox primary shaft by a gear integrated with the clutch housing/primary drive gear pair (a).
Accommodated in the clutch housing is a set of drive and driven plates (9). When the clutch is operated, the driven plates push away a drum (12) which is splined onto the gearbox primary shaft.
Before working on the internal clutch parts, check that the clutch operates correctly. Then deal with the problem in a systematic manner.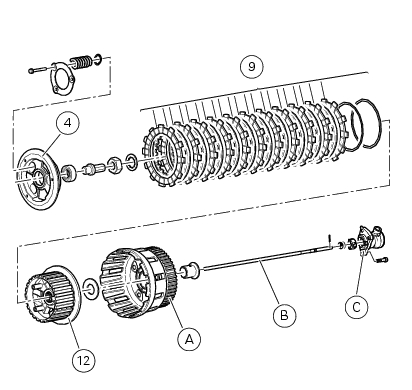 The following is a list of possible causes of clutch malfunctions.
A clutch which does not disengage may be caused by:
Excessive play of the control lever;
Distorted clutch plates;
Incorrect spring tension;
Faulty clutch release mechanism;
Excessive wear of the hub or clutch drum.
A clutch which slips may be caused by:
Insufficient play of the control lever;
Insufficient play of the control lever;
Weakened springs;
Faulty clutch release mechanism;
Excessive wear of the hub or clutch drum.
A noisy clutch may be caused by:
Excessive backlash between the primary drive gears;
Damaged primary drive gear teeth;
Excessive play between friction plate tabs and the clutch drum;
Worn gear/clutch drum bearings;
The presence of metal particles (filings) on the gear teeth.
Screw Ring Clutch spring Pressure plate Bearing Circlips Nut Belleville washer Clutch plates Belleville washer Flat ring Clutch centre Spacer Clutch lifter Spare pa ...
Note For clarity, the figures show the engine removed from the frame. Undo the fixing screws (1) and remove the ring (2) and the springs (3) from the pressure plate (4). Slide the pre ...
Other materials:
Dashboard diagnosis
This function identifies any abnormal vehicle behaviours. The dashboard activates any abnormal vehicle behaviours in real time (errors). At key-on (at the end of the check) one or more "errors" are displayed in red (only if they are active). When an "error" is triggered, the indication (r ...
Trip 1 meter
This function shows the distance travelled since the trip meter was last reset (in km or miles depending on the specific application). Press and hold (1) "s" for 3 seconds while in this function to reset the trip odometer. When the reading exceeds 9999.9, Distance travelled is reset and t ...
Operations to be carried out by the dealer
List of operations to be performed at 1000 km Reading of the error memory with dds on the engine control units, vehicle and abs Change the engine oil Change the engine oil filter Check the indicators and lighting Check the safety devices (side ...