Ducati Diavel Service Manual: Disassembly of the clutch cover
Remove the plug (14) and its o-ring (13), the plug (17) and its o-ring (15) from the cover.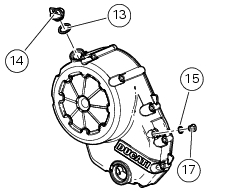 Undo the fixing screw (16) of the inner cover (19).
Remove the inner cover (6) and soundproofing panel (18).
Remove the circlip (10) and withdraw the shim (9) and the sealing ring (8).
The drilled bush (7) is mounted to the cover by a forced interference fit. Remove it using a suitable puller.
Inspect the sealing ring (8) and renew it if necessary.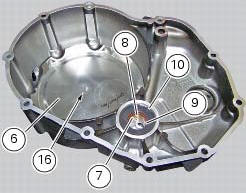 Unscrew the screws (2), (3) and (5) securing the clutch-side crankcase cover (1). Tap around the edge of the cover with a plastic mallet to detach it from the crankcase half. Remove th ...
Fit the plug (14) and the gasket (13). Fit the plug (17) and the gasket (15). If the bush has been replaced, fully seat the new bush (7) in the slot in the cover using a suitable drift and a pr ...
Other materials:
Changing the coolant
Warning This operation must only be carried out when the engine is cold. Attempting to change the coolant with the engine hot could lead to burns from hot coolant or scalding steam. Place a container under the engine and place the motorcycle on its side stand. Remove the expansion reserv ...
Reassembly of the crankcase halves
The crankcase halves must be in good condition and perfectly clean. The mating surfaces must be perfectly flat and free from burrs. Overhauling the alternator-side crankcase half The following parts must be present on the internal side of the crankcase half: Gearbox secondary shaft bearin ...
Gearchange mechanism
Return spring Washer Special screw Gear pawl assembly Interlock plunger holder Sealing washer Detent ball spring Ball Circlip Selector claw return spring Shim washer Ring Nut Selector drum control fork Gearchange lever pin Shaft with gearchange lever arm Gearch ...