Ducati Diavel Service Manual: Disassembly of the gearchange mechanism
Refer to the exploded view at the beginning of this section for indications on disassembly and renewal of gearchange components.
If the bushing (2) inside the pedal (1) needs replacing, grease the external surface and drive the new bushing into place using a press. The bushing must be seated 2 mm below the outer face of the pedal.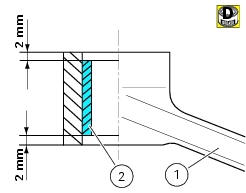 Warning
After working on the gearchange control, check the position of the gearchange pedal.
To adjust the gearchange pedal position, follow the instructions indicated in sec. 4 - 3, Adjusting the position of the gear change and rear brake pedals.
Loosen and remove the pivot screw (4) securing the gearchange pedal (1) and recover the washer (9) and the o-ring Seals (5). Loosen and remove the screw (7) securing the gearchange lever (8 ...
Make sure that the gearchange linkage assembly (6) is installed with the ball joint with a left-hand thread (a) facing the lever (8). Apply the recommended grease to the non-threaded surface of ...
Other materials:
Removing of the side stand
Disconnect connector (a) of the stand switch (2) from the main wiring. Loosen the screws (3), (10), (11) and (12) securing the stand bracket (4) to the engine and remove the complete side stand assembly. Disassembly of the side stand Undo the fixing screw (5) and remove the sid ...
Programming/reprogramming keys
The dds diagnosis instrument is required in order to programme/reprogramme the keys. The key programming procedure is launched from this instrument. To start the key programming/reprogramming procedure it is necessary to have at least one of the keys that start the vehicle available (i.E. I ...
Removal of the gearbox assembly
Withdraw the selector fork shafts (30). Move the forks (28) and (29) to disengage them from the slots in the selector drum (14). Withdraw the selector drum (16) taking care not to lose shims (31) and (27) mounted on the shaft. Note that the positions of the shims must not be inverte ...