Ducati Diavel Service Manual: Disassembly of the oil pump
Hold the oil pump (1) in a vice taking care not to damage the drive gear (12).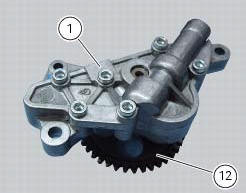 Warning
Make sure that vice jaws are faced with soft material.
Remove the plug (14) and extract the spring (16) and by-pass valve (17).
Check the condition of the above components.
Remove the circlip (6) and withdraw the pump drive gear (12).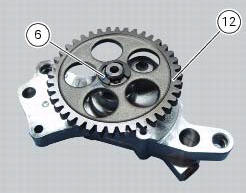 Undo and remove the screws (9) and (10) securing the pump assembly. Remove the oil pump assembly (1) and extract the o-rings (2) and (4) from the crankcase half together with two locating bu ...
Check that the circlip (3) and tongue (13) are present on the pump. Fit the pump drive gear (12) on to the oil pump and secure it by installing the circlip (6) in its groove. Insert the by-p ...
Other materials:
Removal of the water pump
Note For clarity, the figures show the engine removed from the frame. Loosen and remove the water pump cover (12) fixing screws (13) to the generator cover (16). Remove the water pump cover (12). Clean the pump housing of any scale. Check the bearings wear by turning the impeller s ...
Reassembly of rear shock absorber - rocker arm - linkage assembly
Once the needle roller bearings (9) have been removed from the rocker arm (18), upon reassembly fit a new needle roller bearing (9) on drift part no. 88713.1071 And lubricate with recommended grease. Support the rocker arm and drive the needle roller bearings into the rocker arm bore until t ...
Key-on/key-off using the red key on the handlebar with the active key
A key-on can be performed by pressing the red key (6) on the handlebar in the hands free on/off position and in the presence of the active key (3, fig. 77). Note The active key (3, fig. 77) Has a range of approx. 1.5 M, therefore it must be located within this range. Key-off can be performed ...