Ducati Diavel Service Manual: Disassembly of the seat
Remove the seat and turn it upside down.
Loosen the special screws (4), turn the plates (5) and open the seat cover (2) lateral sides to slide it out.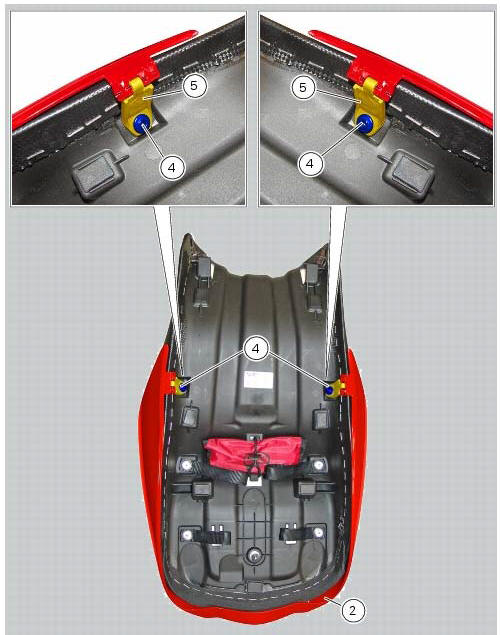 Insert the key in the lock, turn it clockwise and release the seat. Pull the seat (1) backwards to release it from the front catches and remove it. ...
Place the seat cover (2) on the seat and fix it (on the lower side) by starting screws (4) on plates (5). Tighten the screws (4) to a torque of 4 nm +/- 10% (sect. 3 - 3, Frame torque settings) ...
Other materials:
Disassembly of gear interlock plunger and pawl assembly
Unscrew the interlock plunger screw (5) and remove the seal (6), spring (7) and the detent ball (8). Unscrew the clutch-side crankcase half screw (3) and remove the pawl (4), washer (2) and spring (1). ...
Refitting the timing covers
Locate vertical cylinder external cover (25), horizontal cylinder external cover (3) and central external cover (1) by starting the screws (4). Apply the recommended threadlocker to the screws (4). Tighten the screws (4) to a torque of 10 nm (min. 9 Nm - max. 11 Nm) (sect. 3 - 3, Engine t ...
Checking and adjusting the valve clearances
Note For clarity, the figures show the engine removed from the frame. Move the piston of the cylinder being checked to tdc of the power stroke: in this condition, all the valves are closed and the timing shafts come in neutral position and, therefore, free to rotate; check to the valve cl ...