Ducati Diavel Service Manual: Exhaust system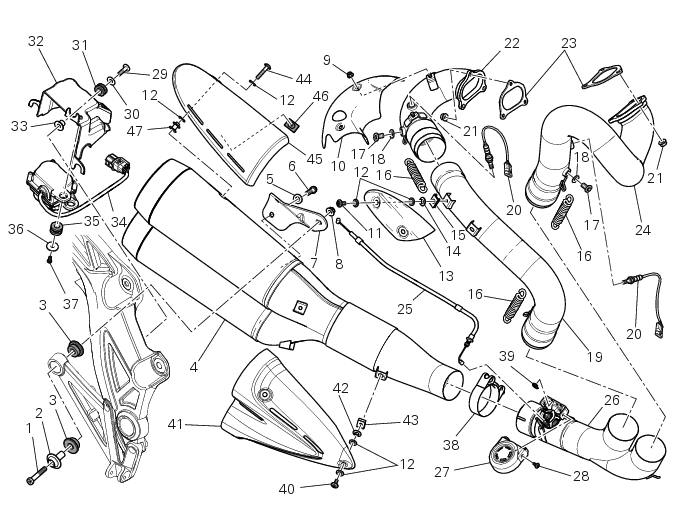 Screw
Bush
Vibration damper mount
Silencer
Washer
Screw
Bracket
Nut
Nut
Upper heat guard
Screw
Washer
Central heat guard
Spacer
Clip nut
Long exhaust spring
Plug
Sealing washer, thickness 1
Vertical exhaust pipe
Lambda sensor
Nut
Vertical flange
Exhaust gasket
Horizontal flange
Flexible cable
Central exhaust pipe
Exhaust protection
Screw
Screw
Washer
Rubber pad
Support
Spacer
Exhaust valve motor
Rubber pad
Washer
Screw
Clamp
Circlip
Screw
Lower heat guard
Spacer
Quick-release fastener
Screw
Upper heat guard
Rubber mounting
Spacer
Spare parts catalogue
Diavel abs exhaust system
Diavel carbon abs exhaust system
Important
Bold reference numbers in this section identify parts not shown in the figures alongside the text, but which can be found in the exploded view diagram.
Apply universal sealant in the air duct (2) and (6) groove (d). Fit seal (7) in the groove (d) having care to place it correctly in the relevant seat so as to avoid abnormal wrinkles. Pull o ...
Loosen the clamp (38) that retains the silencer (4) to the complete exhaust system. While holding the nut (8), loosen the screw (1) and remove the silencer (4) from the motorcycle. Loose ...
Other materials:
Flywheel - alternator
Screw Alternator stator Plug Sealing ring O-ring Cover Screw Aluminium gasket Screw Bracket Locating bush Screw generator cover Flange Flanged nut Plane washer Flywheel Washer Inner ring Needle roller bearing Electric starter driven gear Starter clutc ...
Refitting the front forks
Refit the fork legs, positioning them at the height shown in the figure relative to the upper surface of the bottom yoke. Warning The difference in height between the two fork legs must be no greater than 0.1 Mm. Position the fork legs (5) and (6) on the yoke base (4) and on the steering ...
Removing the valve rocker arms
With the cylinder head in the condition described in the previous paragraph, remove the rocker arms. Unscrew the eight plugs (12) and recover the seals (15). Using an m6 screw, withdraw the shafts (2) of the opening rocker arms (3) on the exhaust and intake sides. Remove the openi ...