Ducati Diavel Service Manual: Gearbox shafts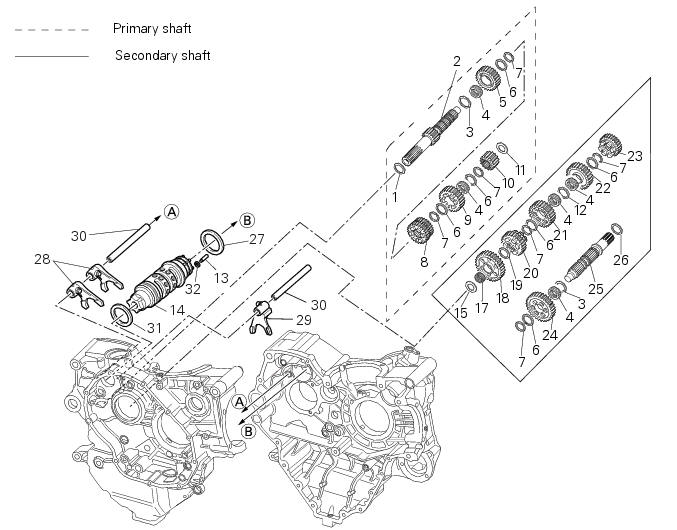 Shim, thickness 1
Gearbox primary shaft
Shim, thickness 0.5
Needle roller bearing
5Th speed driving gear
Splined washer, thickness 0.5
Circlip
3Rd- 4th speed driving gear
6Th speed driving gear
2Nd speed driving gear
Shim, thickness 1.8
Splined washer, thickness 0.5
Special needle roller (square cross-section)
Selector drum
Shim washer
Selector drum assembly
Needle roller bearing
1St speed driven gear
Shim, thickness 1
5Th speed driven gear
4Th speed driven gear
3Rd speed driven gear
6Th speed driven gear
2Nd speed driven gear
Gearbox secondary shaft
Shim washer
Shim, thickness 1
1St, 4th- 2nd, 3rd speed selector fork
5Th, 6th speed selector fork
Selector fork shaft
Shim, thickness 1
Needle roller retaining circlip (square cross-section)
Spare parts catalogue
Diavel abs gearchange control
Diavel abs gearbox
Diavel carbon abs gearchange control
Diavel carbon abs gearbox
Important
Bold reference numbers in this section identify parts not shown in the figures alongside the text, but which can be found in the exploded view diagram.
Position the gearbox drum selector fork in the centre of the gear rollers. Position the gear selector lever (21) together with control shaft, spring and plate into the chain-side crankcase half. ...
Withdraw the selector fork shafts (30). Move the forks (28) and (29) to disengage them from the slots in the selector drum (14). Withdraw the selector drum (16) taking care not to lose s ...
Other materials:
Removal of the front forks
Before removing the front forks, it is first necessary to remove the following parts: Loosen the clamp screws (1) holding the fork legs to the steering head (3). Loosen the clamp screws (2) and (26) securing the fork legs to the bottom yoke (4). Withdraw the fork legs (5) and (6) downwar ...
Operating principle and characteristics of the ride-by-wire system
The engine control system of the diavel uses a ride-by-wire system with motorised throttle valves. This eliminates all direct connection with metal cables between the throttle grip and the throttle valves themselves. Cables are used to rotate the aps potentiometer, which generates an electric ...
Belly fairing
Rh belly fairing Lh belly fairing Special screw Nylon washer Screw Central belly fairing Oil cooler shield Special screw Clip Washer Clip Screw Bracket Screw Spare parts catalogue Diavel abs belly fairing Diavel carbon abs belly fairing Important Bold refere ...