Ducati Diavel Service Manual: Ground connection locations
The negative cable, which is normally connected to the negative pole of the battery, is fastened to the crankcase. From here, the cable branches off and splits up within the electrical system to carry the ground connection to the different elements in the system.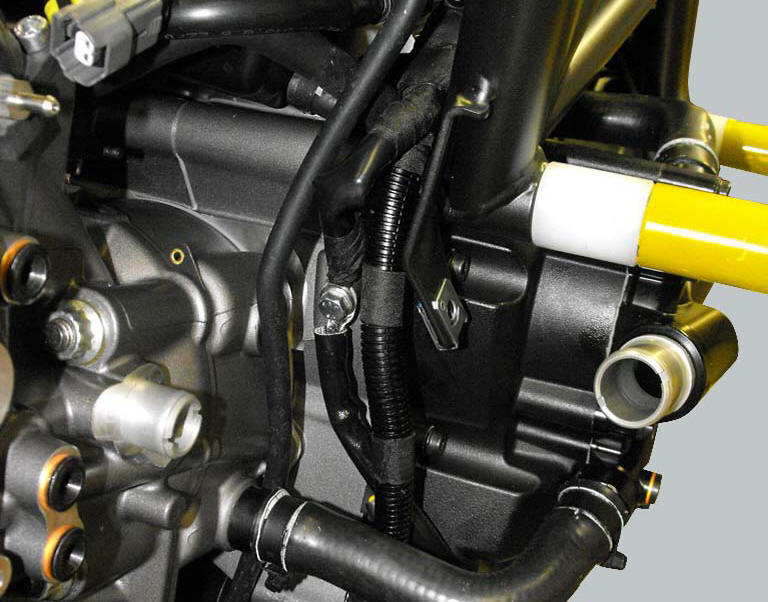 The image shows the ground connection on left side of the engine crankcase.
On the diavel, the +15v (key on power) voltage does not come from a conventional ignition key, but from pin 30 of the hands free relay. This relay is switched to closed state by the hands free unit ...
The front and rear running lights consist of led units with light conduits. As a result, the light source is not visible as the light is diffused through the surface of the light conduit. ...
Other materials:
Removal of the camshafts
Unscrew and remove the screws (7) and the o-rings (8) from the cylinder head covers. Remove the cylinder head cover (6). Remove the gaskets (4) and (9). Repeat the same procedure for the other cylinder head cover. Unscrew the screws (3) securing the camshaft supports. Withdra ...
Instrument panel on tank
Menu 1 (tot, trip1, trip2, trip fuel). Menu 2 (cons.Avg., Cons., Speed avg, air and trip time) if active. Gear / neutral indication. Icon referred to the function below from menu 1. Indication of engine setting for the currently set riding style. Currently set riding style (riding m ...
Adjusting the clutch lever and front brake lever
The clutch lever (1) is fitted with a span adjuster (2) which serves to alter the distance of the lever from the handlebar. The lever distance can be adjusted through 10 clicks of the dial (2). Turn clockwise to increase lever distance. Turn the adjuster counter clockwise to decrease lever d ...