Ducati Diavel Service Manual: Location of elements on motorcycle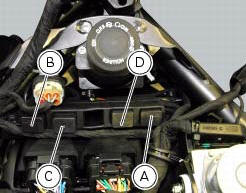 (A) injection relay; (b) etv relay (throttle valve operating engine); (c) radiator fan relay; (d) hands free relay.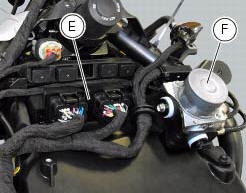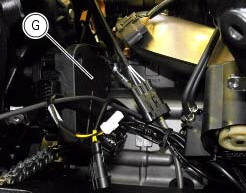 (E) ecu; (g) bbs (black box system or central electronics); (f) abs hydraulic unit with integrated control unit.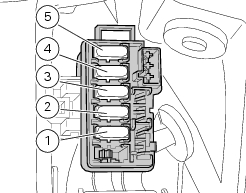 Fuses located at the rear left of the vehicle.
(1) 10A dashboard; (2) 5a engine control unit; (3) 15a key-sense; (4) 20a injection relay; (5) 15a throttle opening relay (etv).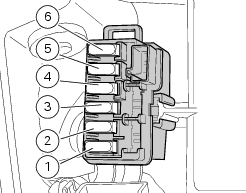 Fuses located at the rear right of the vehicle.
(1) 7.5A black box system (bbs); (2) navigator; (3) 25a abs 2; (4) 30a abs 1; (5) 10a fans; (6) 7.5A
Diagnosis/recharge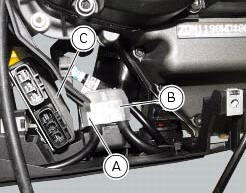 (A) starter motor relay; (b) main fuse (30a).
The voltage regulator (c) is mounted on the electrical components support.
The front and rear running lights consist of led units with light conduits. As a result, the light source is not visible as the light is diffused through the surface of the light conduit. ...
Other materials:
Disassembly of the generator cover
Undo the three stator retaining screws (25) and the two retaining screws (9) of the two cable grommet bracket (10) from inside the generator cover. Remove the stator (2) and the cable grommet bracket (10). The generator-side crankcase cover is fitted with a bearing (27), held in pla ...
Removing the frame and the lateral footrests
Loosen the two special screws (6) to separate the frame (1) from the lateral brackets (2) and (3). On the left side of the vehicle block retaining pins (9) and loosen the nuts (8) on the right side at the same time. Slide out the retaining pins (9) and remove the frame (1) from the lateral ...
Refitting the cylinder/piston assembly
If new units are used, it is necessary to couple the cylinders and pistons of the same selection (see paragraph "overhaul Of the cylinder barrel/piston components" of this section). If the pistons have been separated from their cylinders, before reassembling these components, position the p ...