Ducati Diavel Service Manual: Overhaul of the gearbox
Check the condition of the front coupling dogs of the gears. They must be in perfect condition and with no sign of wear on the edges of the teeth.
The idler gears must rotate freely on their shafts.
When refitting, make sure the circlips are correctly positioned.
Check the needle roller bearings for wear.
The threads and splines of the shafts must be in perfect condition.
Also check that the component parts of the gear selector mechanism are in good condition.
Engage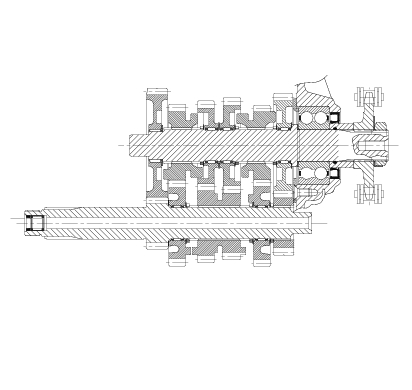 Engage the gears and check that the gearchange mechanism does not stick (selector fork - gear groove, and fork pin - desmodromic drum groove) due to incorrect end float. Restore the correct end float by shimming the gearbox shafts and the selector drum with suitable shims.
For the total gearbox shaft and selector drum end clearance values, refer to sect. 3 - 1.1, Gearbox.
Place the shaft in a vice in such a way as to facilitate the disassembly operations. Important Take care not to invert the positions of the shims on reassembly: this would potentially lead to jam ...
Visually inspect the gear selector forks. Bent forks must be renewed as they may lead to difficulties in gear changing or may suddenly disengage when under load. Use a feeler gauge to check the ...
Other materials:
Distance travelled on fuel reserve: trip fuel
This function shows the distance travelled on fuel reserve (in km or miles depending on the specific application). When the fuel light comes on, the display automatically switches to the "trip fuel" indicator. Trip fuel reading remains stored even after key-off until the vehicle i ...
Programming/reprogramming keys
The dds diagnosis instrument is required in order to programme/reprogramme the keys. The key programming procedure is launched from this instrument. To start the key programming/reprogramming procedure it is necessary to have at least one of the keys that start the vehicle available (i.E. I ...
Reassembly of rear shock absorber - rocker arm - linkage assembly
Once the needle roller bearings (9) have been removed from the rocker arm (18), upon reassembly fit a new needle roller bearing (9) on drift part no. 88713.1071 And lubricate with recommended grease. Support the rocker arm and drive the needle roller bearings into the rocker arm bore until t ...