Ducati Diavel Owners Manual: Pre-ride checks

Warning
failure to carry out these checks before riding, may lead to motorcycle damage and injury to rider and passenger.
Before riding, perform a thorough check-up on your bike as follows:
Fuel level in the tank
Check the fuel level in the tank. Fill tank if needed (page 140).
Engine oil level
Check the oil level in the sump through the sight glass.
Top up if needed (page 164).
Brake and clutch fluid
Check fluid level in the relevant reservoirs (page 143).
Coolant level
Check coolant level in the expansion reservoir.Top up if needed (page 142)
Tyre condition
Check tyre pressure and condition (page 162).
Controls
Operate the brake, clutch, throttle and gear change controls (levers, pedals and twistgrip) to check that they function correctly.
Lights and indicators
Make sure the lights, indicators and horn work properly.
Replace any burnt-out bulbs (page 158).
Key-operated locks
Ensure that fuel filler plug (page 118) and seat (page 119) are firmly secured.
Stand
Make sure side stand operates smoothly and is in the correct position
Abs light
After key-on, the abs light (9, fig. 4) Stays on. When the vehicle speed exceeds 5 km/h; the light turns off to indicate that the abs system is functioning properly.

Warning
In case of malfunction, do not ride the motorcycle and contact a ducati dealer or authorised service centre.
Abs device
Check that the front (1, fig. 115) And rear (2, fig. 116) Phonic wheels are clean.
Warning
Clogged reading slots would compromise system proper operation.
It is recommended to disable abs system in case of muddy road surface because under this condition the system might be subject to sudden failure.

Warning
Prolonged rearing could deactivate the abs system.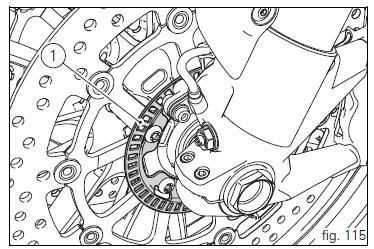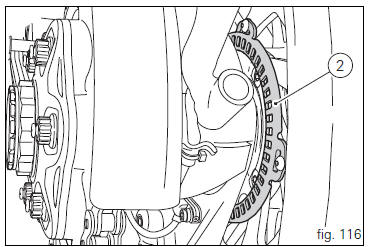 Maximum rpm (fig. 114) Rotation speed for running-in period and during standard use (rpm) Up to 1000 km; From 1000 to 2500 km. Up to 1000 km During the first 1000 km, keep an eye on the re ...
Warning Before starting the engine, become familiar with the controls you will need to use when riding (page 99). Warning Never start or run the engine indoors. Exhaust gases are toxic and may ...
Other materials:
General safety rules
Carbon monoxide When a maintenance operation must be performed with the engine running, maker sure that the working area is wellventilated. Never run the engine in an enclosed space. Warning Exhaust fumes contain carbon monoxide, which is a poisonous gas that can cause unconsciousness or e ...
Oil cooler
Oil cooler Vibration damper mount Spacer Screw Nipple Aluminium gasket Oil delivery hose Screw Plate Bracket Screw Engine oil pressure sensor Sealing washer Heat guard Exhaust protection Screw Washer Spacer Spare parts catalogue Diavel abs oil cooler Dia ...
Refitting the expansion tank
If the support (15) has been removed, place the hose clamps (14) on the bracket (15) orienting them as indicated. Fully press the pins (a) to block the clamps (14) until pins surfaces (b) are at the same level of the clamps (14) surfaces. Apply recommended threadlocker to the thread of the ...