Ducati Diavel Service Manual: Refitting the cylinder head assemblies
Warning
To prevent oil leaks past the contact area between cylinders and crankcase, each time the head is removed, cylinder and piston must be removed as well to clean the mating faces of crankcase and cylinder and restore the spoiled gaskets and o-rings and apply again liquid sealant (sect. 9 - 5, Refitting the cylinder/piston assembly).
Before fitting the head, check that the seal is fitted on the mating surface between head and cylinder (sect. 9 - 5, Refitting the cylinder/piston assembly).
Note
When fitting the gasket, side (e) with the stamped code must be in contact with the cylinder head.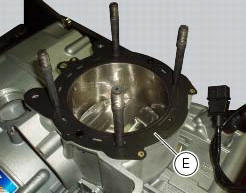 Lower the cylinder head carefully over the studs. Take care not to damage the threads.
Fit the special washers (22) and nuts (21) onto the cylinder head studs.
Tighten the nuts (21) on the stud bolts evenly and gradually in a crosswise pattern using tool 88713.2676 In conjunction with a torque wrench.
Temporary tighten the nuts (21) to a torque of 20 nm; pre-tightening to a torque of 40 nm (min. 38 Nm - max. 48 Nm); one tightening to a torque of 60 nm (min. 57 Nm - max. 63 Nm) (sect. 3 - 3, Engine torque settings).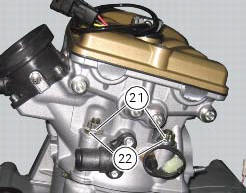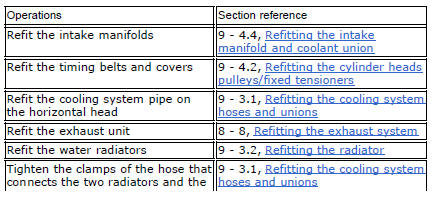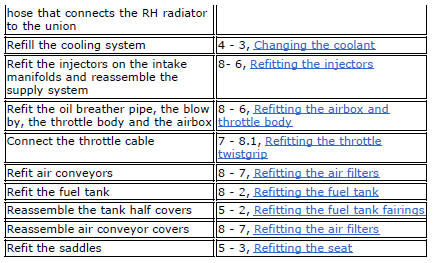 The exhaust side can be identified by the three threaded holes on the flange. The intake side can be identified by the presence of four threaded holes on the flange. All the photos in this ...
Piston Gudgeon pin circlip Gudgeon pin Set of piston rings Cylinder-crankcase gasket Water pump outlet union Hose clip Horizontal cylinder coolant inlet hose Vertical cylinder c ...
Other materials:
Trip 2 meter
This function shows the distance travelled since the trip meter was last reset (in km or miles depending on the specific application). Holding the button (1, fig. 14) ? pressed for 3 seconds when this function is displayed resets the trip meter. When the reading exceeds 9999.9, Distance t ...
Flywheel - alternator
Screw Alternator stator Plug Sealing ring O-ring Cover Screw Aluminium gasket Screw Bracket Locating bush Screw generator cover Flange Flanged nut Plane washer Flywheel Washer Inner ring Needle roller bearing Electric starter driven gear Starter clutc ...
Rectifier-regulator
The rectifier (1) is placed in the electrical components compartment. The rectifier/regulator consists of an aluminium casing containing the diodes that rectify the current produced by the alternator. It also contains an electronic device that regulates the current supplied by the alternator ...