Ducati Diavel Service Manual: Refitting the oil pump
If removed, apply specific threadlocker on the bushing (7) outer thread, and screw it in the crankcase half, observing the height.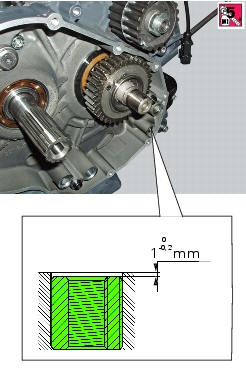 Position the reference bushings (15) and the oil sealing o-rings (2) and (4) according to the crankcase lubrication channels.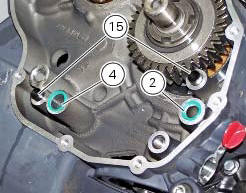 Position the oil pump on the crankcase and tighten screws (9) to a torque of 26 nm (min. 23 Nm - max. 29 Nm) and the screw (10) to a torque of 10 nm (min. 9 Nm - max. 11 Nm) (sect. 3 - 3, Engine torque settings).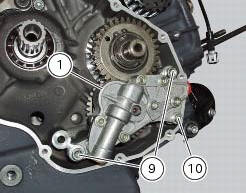 Check the gear clearance with the driving pinion by fixing a dial gauge (a), equipped with the appropriate traces, to the crankcase half.
Position the dial gauge stylus on one tooth of oil pump gear and set the gauge to zero in this position.
Move the gear slightly to measure the backlash; take four readings in diametrically opposed positions of the gear.
The clearance should be 0.10 Mm.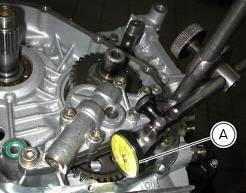 Check that the circlip (3) and tongue (13) are present on the pump. Fit the pump drive gear (12) on to the oil pump and secure it by installing the circlip (6) in its groove. Insert the by-p ...
Oil cooler Vibration damper mount Spacer Screw Nipple Aluminium gasket Oil delivery hose Screw Plate Bracket Screw Engine oil pressure sensor Sealing washer Heat guard ...
Other materials:
Electrical power for lighting and signalling devices
The front and rear running lights consist of led units with light conduits. As a result, the light source is not visible as the light is diffused through the surface of the light conduit. These two images illustrate the front and rear running lights with light conduits. The figure ...
Removal of the air filters
Work on the vehicle right side, loosen screws (3) that secure the intake duct (2) to the airbox, and the radiator retaining screw (a); recover the washer (b). Remove the intake duct (2). Proceed in the same way to remove the lh intake duct (6), and disconnect the connector (c) ...
Reassembling the electrical components support
Check the presence of clips (1), (9) and (24) on the support (5). Check the presence of rubber pads (6) and (8) and of cable grommet (7). Check that the voltage regulator (3) and the solenoid starter (18) are in place on the support (5) with their wiring as shown. The horn (22) mus ...