Ducati Diavel Service Manual: Removal of the lubrication system

Disconnect the sensor (12) of the main wiring.
Open the pipe grommet (11).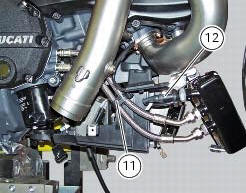 Undo the screw (8) and slide out the plate (9).
Slide the tubes (7) out of the half-casing having care not to damage the tubes o-rings (a) that guarantee the coupling sealing.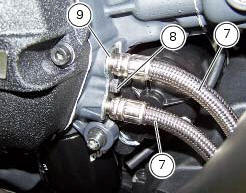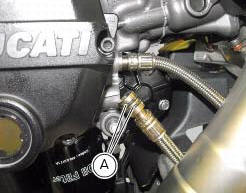 Undo and remove the screw (4) with the spacer (3). Remove the radiator by sliding it out of pins (c) and (d).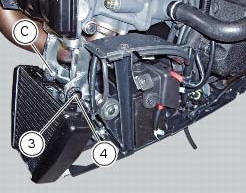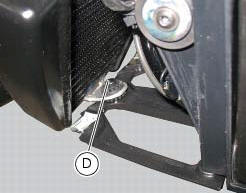 Loosen the nuts (g) of the pipes (7) from the nipples (5) and disconnect it from the radiator.
Loosen the nipples (5) on the radiator and collect the gaskets (6).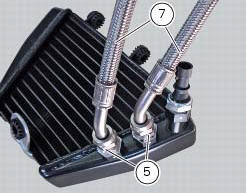 Oil cooler inspection
Visually inspect the oil cooler. Renew the cooler at any sign of damage or leaks.
Oil cooler Vibration damper mount Spacer Screw Nipple Aluminium gasket Oil delivery hose Screw Plate Bracket Screw Engine oil pressure sensor Sealing washer Heat guard ...
Note Before fitting the pipes (7), it is recommended to check the presence of the o-rings (e). Lubricate them by using engine oil. If the nipples (5) have been removed from the radiator inser ...
Other materials:
Indicator trip time - trip time
This function shows the vehicle trip time. The calculation is made considering the time travelled since the last trip 1 reset. When trip 1 is reset, the value is set to zero. The active phase calculation occurs when the engine is running and the vehicle is stopped (when the vehicle is not ...
Starter motor relay
Introduction When the rider presses the start button, with all the safety conditions required to enable engine start met, the engine control unit enables the relay that activates the starter motor. Component assembling position Connection on starter motor relay. Connection wiring diagram ...
Checking and adjusting the valve clearances
Note For clarity, the figures show the engine removed from the frame. Move the piston of the cylinder being checked to tdc of the power stroke: in this condition, all the valves are closed and the timing shafts come in neutral position and, therefore, free to rotate; check to the valve cl ...