Ducati Diavel Service Manual: Removal of the primary drive gear

Withdraw the clutch housing (1) complete with driven gear of the primary pair (a).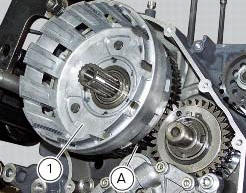 Remove the inner spacer (2).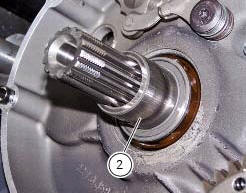 Remove the oil pump (d) (sect. 9 - 2.1, Removal of the oil pump).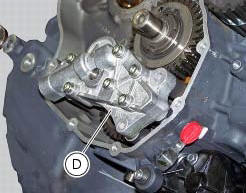 Lock the primary pinion (b) with the holding tool 88713.3417 And loosen the threaded ring nut (3) using the bush part no. 88713.3406.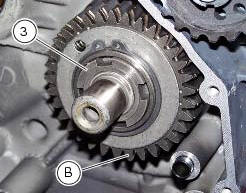 Remove the nut (3) and safety washer (4).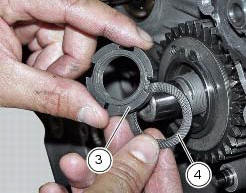 Remove the complete primary drive gear (b) using a commercial puller and placing a brass or aluminium pad between the end of the crankshaft and the puller screw.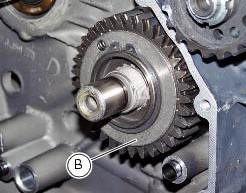 Remove the spacer (c).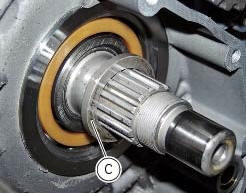 Clutch drum/primary drive gears Spacer Threaded ring nut Lock washer Spare parts catalogue Diavel abs clutch Diavel abs connecting rods Diavel carbon abs clutch Diavel carbon ab ...
Fully degrease the crankshaft splined end and the corresponding spline on the primary drive gear. Position the spacer (c) onto the crankshaft. Fit the driving gear (b) onto the crankshaft wi ...
Other materials:
Refitting the front brake master cylinder
Insert the front brake master cylinder unit (1) on the right side of the handlebar to bring the terminal internal edge in correspondence to the bolted joints (a). Fit the terminal (12) on the handlebar inserting the screws (15). Tighten the terminal (12) retaining screws to a torque of 10 ...
Refitting the gear selector lever
Position the gearbox drum selector fork in the centre of the gear rollers. Position the gear selector lever (21) together with control shaft, spring and plate into the chain-side crankcase half. Insert the screws (18) and (20) with the spacer (19). Temporarily fit gear change lever (or a ...
Refitting the brake disks
Before refitting the brake disc to the wheel, clean all contact surfaces thoroughly and smear a medium strength threadlocker on the threads of retaining screws (5). Operating on the left side, fit the phonic wheel (6). Tighten the fixing screws (5) of the brake disk (7) to the wheel followi ...