Ducati Diavel Service Manual: Removal of the water pump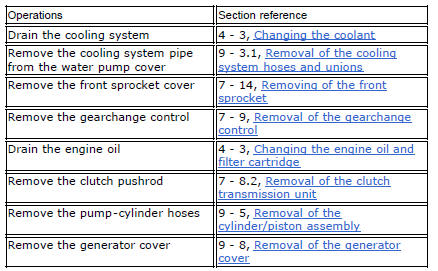 Note
For clarity, the figures show the engine removed from the frame.
Loosen and remove the water pump cover (12) fixing screws (13) to the generator cover (16).
Remove the water pump cover (12).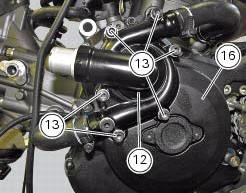 Clean the pump housing of any scale. Check the bearings wear by turning the impeller shaft (10); in case of excessive clearance, it is necessary to replace them by operating as follows.
Remove the circlip (3) on the impeller shaft.
Slide off the rotor (10) with the sealing ring (9) from the outside.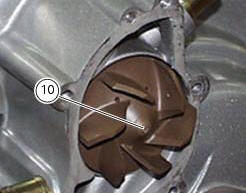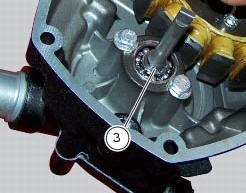 Recover the ceramic washer - seal unit (8) placed on the internal side.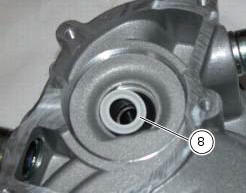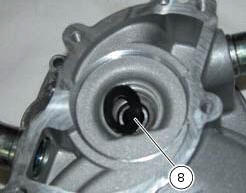 Undo and remove the screws (1) with the washer (2).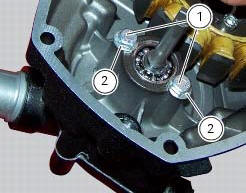 Working from the generator cover (16) internal side, use a suitable punch to press on the inner race of end bearing (5) until it can be extracted from the cover.
Use the same technique to remove the other bearing (6).
Remove the inner spacer (7).
Check the condition of the components of the mechanical seal: there should be no signs of deformation, cracking, or excessive wear. In the case of damage, both components must be renewed.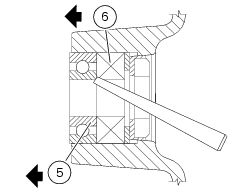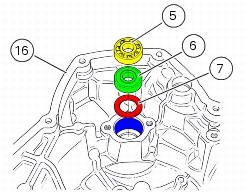 Screw Washer Circlip Water pump outlet union Bearing bearing Spacer Aluminium gasket Mechanical seal Water pump impeller Bush Water pump cover assembly Screw Plug Se ...
Clean the seat on the cover, any parts you intend to reuse, and the impeller shaft. Then refit as follows. Fit on the impeller (10) shaft the mechanical seal (9) as indicated in the figure. ...
Other materials:
Reassembling the frame and the lateral footrests
Apply the recommended grease to the thread of the pins (9) and of the nuts (8). Place the frame (1) and the brackets (2) and (3) on the engine block. Start the pins (9) by holding the nuts (8) and insert without tightening the screws (6) into the adjusters (4). Position and fix the rear s ...
Rh switch
Red on/off switch. Black engine start button. The switch (1) has three positions: Centre: run off. In this position, the engine cannot be started and all electronic devices are off. Pushed down: on/off. In this position, the system can be turned on (key-on) and off (key-off). Pus ...
Front brake control
Front brake master cylinder Brake lever Special screw Sealing washer Screw Phonic wheel Brake disc Pin Left brake calliper Boot Bleed valve Spare stand Control unit - front callipers pipe Microswitch Oil duct union Screw Hose clip Right brake calliper Speci ...