Ducati Diavel Service Manual: Removing of the side stand

Disconnect connector (a) of the stand switch (2) from the main wiring.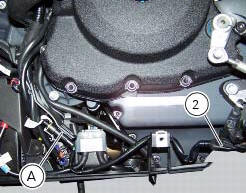 Loosen the screws (3), (10), (11) and (12) securing the stand bracket (4) to the engine and remove the complete side stand assembly.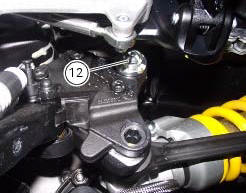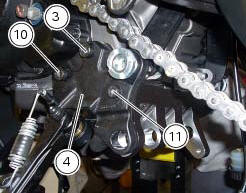 Disassembly of the side stand
Undo the fixing screw (5) and remove the side stand switch (2).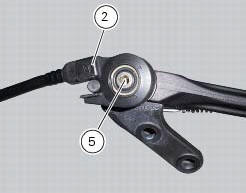 Release the side stand return springs (6) and (7) of the fasteners (a) and (b).
Undo the stand fixing pin (9) to the bracket and remove the side stand (1) and the nut (8).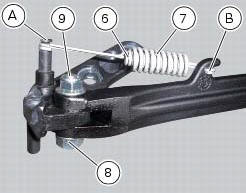 Inspecting the side stand
Fit the side stand leg to the bracket and check that there is no excessive clearance. Ensure that the ends of the side stand are not bent with respect to the shank.
A side stand which shows signs of cracking must be renewed immediately.
To check the switch (2) refer to sec. 6 - 6, Checking the side stand switch.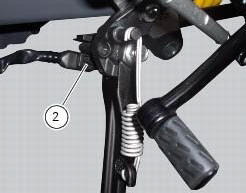 Reassembling of the side stand
Insert the side stand (1), properly greased, in the bracket (4) and fix it with the pivot (9) and the nut (8).
Tighten the nut (8) to the torque of 20 nm +/- 10% (sect. 3 - 3, Frame torque settings).
Position the side stand return springs (6) and (7) and fix them to the fasteners (a) and (b) on the bracket and on the stand.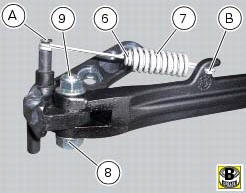 Set switch (2) to plate (4) by inserting sensor pin (c) into side stand hole (d) and making sure side stand pin (e) matches with groove (f) on sensor.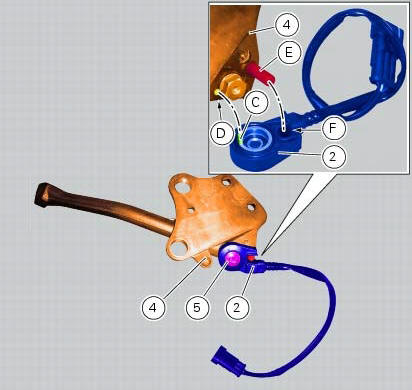 Fit the retaining screw (5) with recommended threadlocker and tighten it to a torque of 5 nm +/- 10% (sect. 3 - 3, Frame torque settings).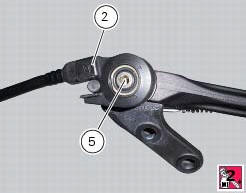 Side stand Side stand switch Screw Plate Screw Inner spring Outer spring Nut Rotation pivot Screw Screw Screw Nut Clearance adjuster Spare parts catalogue Diavel a ...
Place the stand plate on the rear shock absorber support; bring adjuster (14) in line with bracket (s) and start the screw (12) in the nut behind the bracket (s). Insert the screws (11), (3) and ...
Other materials:
Stop light not working
Fault codes Dds: stop light diagnosis -> stop light error (generic stop light malfunction indication). Dashboard: the error "stop light" is shown on the service display. The eobd warning light activates. Wiring diagram Db dashboard connection, bbs bbs unit connection, a front brake ...
Lap registration function
This function describes the "lap" time registration. If the function is activated (see "lap activation/deactivation description), the lap time can be registered as follows: pressing the flash headlight button (6) the first time starts the "lap timer" for the first lap, and the dashboard show ...
The hands free module
Introduction The hands free module incorporates the control unit communicating with the other nodes on the motorcycle, the on/off button, the microswitches detecting full lock steering angle (for enabling steering lock engagement) and the steering lock. The module is sealed and its individu ...