Ducati Diavel Service Manual: Riding style function (riding style change)
This function changes the motorcycle riding style.
Each riding style is associated with a different intervention level of the traction control (dtc - ducati traction control) and different engine power and output.
To change the motorcycle riding mode, press the reset button once (3) and the "riding mode" menu will appear on the display.
Select the desired riding mode by pressing the reset button (3) repeatedly. Press the same button for 3 seconds to confirm the riding style.
If the twistgrip is closed (vehicle stopped) the riding style change will occur immediately; if the twistgrip grip is open (vehicle moving) the message "close throttle to activate" will appear on the display, which means that the throttle must be closed; this message will appear for 5 seconds, during which the gas must be closed in order to activate the new riding style.
If the twistgrip is not closed after 5 seconds, the procedure is aborted (no change is made).
If the "riding mode" menu is activated and the reset button (3) is not kept pressed for 10 seconds, the dashboard will automatically exit the display mode without making any change.
Warning
Ducati recommends changing the riding style when the vehicle is stopped. If the riding style is changed while riding, be very careful (it is recommended to change the riding style at a low speed).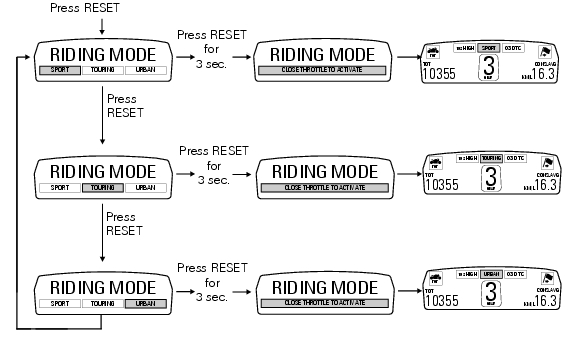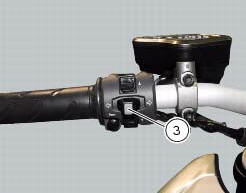 This function indicates if "lap" function (lap number) is active. When "lap" is not lit up, this means that the function has been switched off. The "lap" function can be activated using the "lap ...
This function indicates that the vehicle is about to or has travelled a distance for which an authorised ducati service centre should be contacted to have the general maintenance or oil change pe ...
Other materials:
Instrument panel diagnosis
This function identifies any abnormal vehicle behaviours. The instrument panel activates any abnormal vehicle behaviours in real time (errors). At key-on (at the end of the check) one or more "errors" are displayed in red (only if they are active). When an "error" is t ...
Recovery procedure with no key
When the dashboard is on and the key has been recognised, the hands free attempts to detect the key every 60 seconds. If the engine is off and the on/off switch on the handlebar is turned to "run off", if no key is detected within 10 seconds, the dashboard switches off automatically. If t ...
Running lights not working
Fault codes Dds: no fault code displayed. Dashboard: no fault code displayed. Location of connections and components (A) low / high beam and parking light connections rear running light and stop light connection. Pin numbering of wiring harness side bbs unit connection. Checks The ...