Ducati Diavel Owners Manual: Riding style function (riding style change)
This function changes the motorcycle riding style.
Each riding style is associated with a different intervention level of the traction control (dtc - ducati traction control) and different engine power and output.
To change the motorcycle riding mode, press the reset button once (12, fig. 12) And the "riding mode" menu will appear on the display.
The desired riding style can be selected by pressing the same reset button multiple times (12, fig. 12). Press the same button for 3 seconds to confirm the riding style.
If the twistgrip is closed (vehicle stopped) the riding style change will occur immediately; if the twistgrip grip is open (vehicle moving) the message "close throttle to activate" will appear on the display, which means that the throttle must be closed; this message will appear for 5 seconds, during which the gas must be closed in order to activate the new riding style.
If the twistgrip is not closed after 5 seconds, the procedure is aborted (no change is made).
If the "riding mode" menu is activated and the reset button is not pressed (12, fig. 12) For 10 consecutive seconds, the instrument panel will automatically exit the display mode without making any change.

Warning
Ducati recommends changing the riding style when the vehicle is stopped. If the riding style is changed while riding, be very careful (it is recommended to change the riding style at a low speed).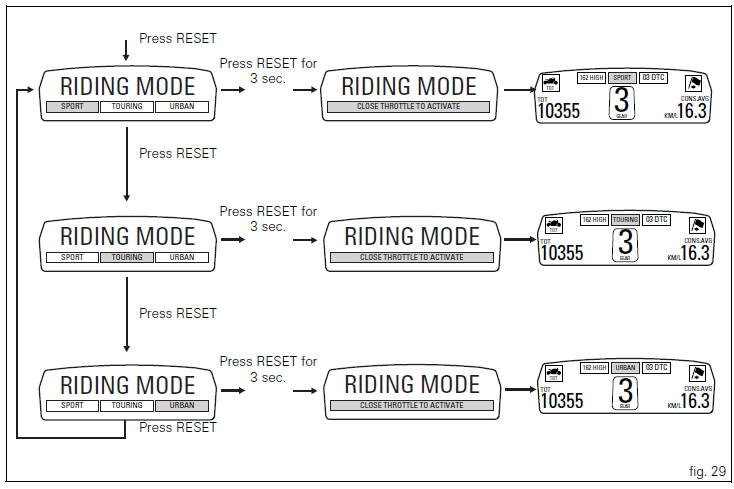 This function indicates if "lap" function (lap number) is active. When "lap" is not lit up, this means that the function has been switched off. The "lap" function ...
This function indicates that the vehicle is about to or has travelled a distance for which an authorised ducati service centre should be contacted to have the general maintenance or oil change perf ...
Other materials:
Transmission
Wet clutch controlled by the lever on left-hand side of the handlebar. Transmission from engine to gearbox primary shaft via spur gears. Front chain sprocket/clutch gearwheel ratio: 33/61 6-speed gearbox with constant mesh gears, gear change pedal on left side of motorcycle. Gearbox ou ...
Turn indicators not working
Fault codes Dds: no fault code displayed. Dashboard: no fault code displayed. Wiring diagram Db dashboard connection, bbs bbs unit connection, s turn indicator button, f1 front left turn indicator, f2 front right turn indicator, f3 rear left turn indicator, f4 rear right turn indicator. ...
Topping up the electrolyte
Warning Before carrying out any operations on the battery, keep in mind the safety standards (sect.1 - 3, General safety rules). The electrolyte in the battery is toxic and can cause burns if it comes into contact with the skin because it contains sulphuric acid. Wear protective clothing, a ...