Ducati Diavel Service Manual: Spark plugs replacement
Check the colour of the ceramic insulation around the central electrode: an even, light brown colour indicates the engine is in good condition and running at the right temperature.
Inspect the centre electrode for wear and check spark plug gap, which should be: 0.8+/-0.1 Mm.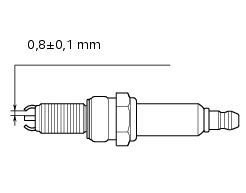 Important
Check the gap between the central and side electrodes. Replace the spark plug if taken value is different from the specified one or the spark plug shows clear signs of carbon settling.
Important
Do not use spark plugs with inadequate thermal rating or incorrect thread length.
The spark plug must be securely installed.
If a spark plug is loose, it can overheat and damage the engine.
Spark plug type
Make: ngk
Type: mar9a-j


Remove the coil-spark plugs wires (1), loosening the screws (2) of both spark plugs.
Using the appropriate tool 88713.2877 To replace the spark plugs.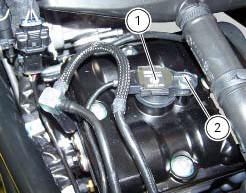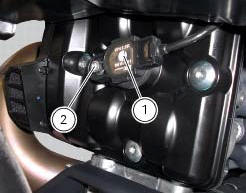 Place the coil-spark plugs wires (1) in the relevant seats and tighten the screws (2) to a torque of 10 nm (min. 9 Nm - max. 11 Nm) (sect. 3 - 3, Engine torque settings).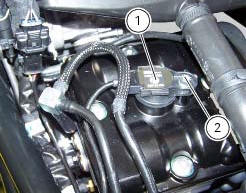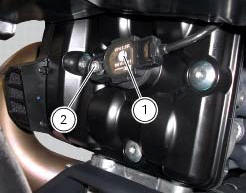 To check the valves clearance, it is necessary to have access to the cylinder head covers and then remove the components listed below. Unscrew the two fixing screws (1) of the cover (2) accord ...
The air filter must be replaced at the intervals described in the "scheduled maintenance chart" (sect. 4 - 2). Work on the vehicle right side, loosen screws (1) that secure the intake duct (2 ...
Other materials:
Inspection of the gear selector drum
Use a gauge to measure the clearance between fork pin and the slot on the selector drum. If the service limit is exceeded, determine which part must be replaced by comparing these dimensions with those of new components (sect. 3 - 1.1, Gearbox). Also check the wear on the drum support pin ...
Adjusting the position of the gear change and rear brake pedals
The position of the gear change and rear brake pedals in relation to the footrests can be adjusted to suit the preferred riding position. To modify the gear change pedal position act in the following mode: hold the linkage (1) and slacken the counter nuts (2) and (3). Note Nut (2) has a lef ...
Communication antenna
Introduction The communication antenna enables the hands free system to detect and communicate with the active or passive key. The active key is detectable within a range of 1.5 Metres, whereas the passive key (or active key with flat battery) can only be detected if placed in contact with ...