Ducati Diavel Service Manual: Tft - parameter setting/display
Warning
Any adjustments to the dashboard must only be carried out when the motorcycle is stationary. Never operate the dashboard controls while riding the motorcycle.
At the end of the check, the dashboard always displays as the "main" indication the odometer (tot) on the left and the average fuel consumption on the right (unless menu 2 was disabled).
At the end of the initial check, the dashboard will always show the "main" display, indicating the following information: set "riding style" (riding mode); gear indication (gear); menu 1: odometer (tot); menu 2: average fuel consumption (cons. Avg).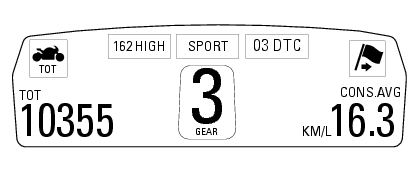 By pressing the button (1) "s" it is possible to switch to the following functions of menu 1: trip1 - trip meter 1; trip2 - trip meter 2; trip fuel - distance travelled on fuel reserve (only if active); by pressing the button (2) "t" it is possible to switch to the following functions of menu 2: cons. - Current fuel consumption; speed avg - average speed; trip time - trip time; air - air temperature; menu 2 viewing can be disabled through the "menu 2" function of the setting menu.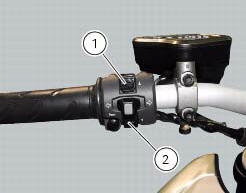 Menu 1 (tot, trip1, trip2, trip fuel). Menu 2 (cons.Avg., Cons., Speed avg, air and trip time) if active. Gear / neutral indication. Icon referred to the function below from menu 1. Indicat ...
This function shows the total distance covered by the vehicle (in km or miles depending on the specific application). At key-on the system automatically enters this function. The odometer read ...
Other materials:
Dashboard
Note The dashboard is supplied as a single component; its internal components cannot be renewed separately. Important Whenever the dashboard is renewed, the ignition key programming procedure must be repeated. Loosen the nuts (2) to remove the master dashboard (1) from its seat and disconn ...
Checking brake pad wear and changing brake pads
Warning Brake fluid is corrosive and will damage paintwork. Avoid contact with eyes and skin. In the case of accidental contact, wash the affected area thoroughly with plenty of running water. Important On handing over the motorcycle after changing the brake pads, inform the customer that th ...
Inspecting the final drive
To check the wear of the final drive, visually check the pinion (14) and sprocket (17). If the teeth are found to worn as shown in the figure (dotted line), the sprocket must be renewed. To check the amount of wear on the chain (8), keep the chain taut and measure 16 links. If the l ...