Ducati Diavel Service Manual: The hands free relay
Introduction
This relay provides key on +15 power to all the devices on the motorcycle. Functionally, it replaces the conventional ignition switch.
Wiring diagram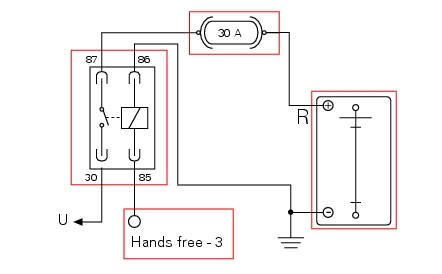 The hands free relay receives +12 volt power directly from the battery via the main 30 a fuse. Hands free - 3: pin 3 on hands free system connection. "U": current consumers requiring +12 volt in key on state (key on +15). Pin 30 red/white wire (r/w), pin 86 black wire (bk), pin 87 red wire (r), pin 85 red/yellow wire (r/y)
Error codes
The hands free system generates no fault code in the event of a hands free relay fault.
Electrical characteristics and checking component
The relay contact must close (continuity between pin 87 and pin 30) when the internal electric winding is powered with 12 volts (pin 86 and pin 85).
In the event of fault
In the event of a hands free relay fault, the engine stops (if running) or will not start. The relay is not commanded by the hands free system.
Installation location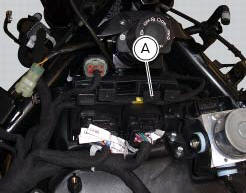 This image shows the location of the hands free relay (a). It is located on the relay supporting bracket.
Component replacement methods
No special measures are necessary in order to replace the hands free relay.
Introduction The on/off switch on the handlebar is used to switch the dashboard on and off, if a key has been detected, and start the engine. With the switch turned to "run off" (centre positio ...
Introduction The active key (1) communicates with the hands free system by radio. In order to function, the key must be within a 1.5 Metre radius from the antenna (located in the document compartm ...
Other materials:
Removing of the cylinder head pulley/fixed tensioner
Insert the tool code 88713.1806 In the pulleys to lock their rotation and use the bush supplied to loosen the fixing nuts (21) of the pulleys. important On reassembly, always use new nuts. Remove the nuts (21) and the pulleys (11) from the camshafts. Loosen the nut (8), and remove the was ...
Dashboard system
The vehicle is equipped with two dashboards: an lcd (1) located on the handlebar containing the key indications (speed, rpm, engine coolant temperature, and clock) and a tft colour display (2) located in the tank fairing displaying trip information (riding style set, odometer, consumption, ave ...
Tank filler plug
Note To open or close the tank filler plug using the active key, set the metal part in the middle position, as shown on page 86. Opening Lift the cover (1, fig. 100) And insert the active or passive key into the lock. Give the key a 1/4 turn clockwise to unlock. Lift the plug (2, fig. 101) ...