Ducati Diavel Owners Manual: Stopping the motorcycle
Reduce speed, shift down and release the throttle twistgrip.
Shift down to engage first gear and then neutral. Apply the brakes and bring the motorcycle to a complete stop. Turn off the engine moving the red switch downward (1, fig. 121).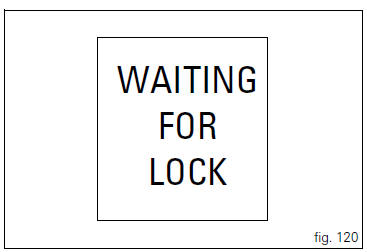 Slow down in time, shift down to engine-brake first and then brake applying both brakes. Pull the clutch lever before stopping the motorcycle, to avoid sudden engine stop. Abs system Using the bra ...
Park the stopped motorcycle on the side stand. Turn the handle completely to the left or right. If this operation is performed within 60 seconds after the engine stop, the message "waiting ...
Other materials:
Removal of the engine
In order to remove engine you must first remove a series of other components from the motorcycle. Most of these removal procedures are described in the relative sections of this manual. The following flow chart illustrates the logical sequence in which the parts are to be removed from th ...
Refitting the cylinder heads pulleys/fixed tensioners
Check that the keyway on the end of the camshaft is in good condition and without burrs. Fit a woodruff key (b) in the keyway of each camshaft. Fit the pulley (11) on the camshaft, inserting the woodruff key in the in the slot (c) in the pulley. Apply the recommended grease to the t ...
Electrical components support
Clip Screw Voltage regulator Battery fixing bracket Battery support Vibration damper mount Hose clip Vibration damper mount Clip Washer Screw Cover Cable grommet Battery Battery mat Screw Bracket Solenoid starter Spring washer Spacer Screw Horn Scre ...