Ducati Diavel Service Manual: Overhauling the rear wheel
Inspect the condition of the rear wheel.
As the wheel rim has no bearings, it should be supported using the service tool code 88713.2951.
Note
This service tool can also be used to install the wheel on a balancing machine.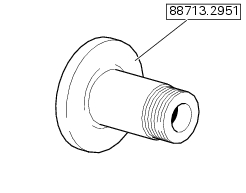 Overhauling the wheel
Inspect the wheel as described below.
Visually inspect the wheel for cracks, scoring and deformation; change the wheel if damaged.
Fit the wheel rim on service tool code 88713.2951 Using the original fasteners.
Using a dial gauge, appropriately supported, measure wheel rim run-out and out-of-round according to the wheel axle (sect. 3 -1.1, Rear wheel).
If the values measured are not within the tolerance limits, renew the wheel.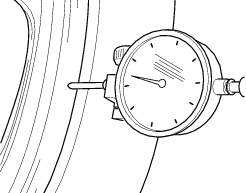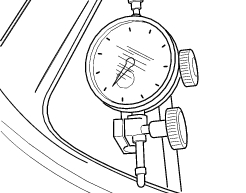 Place the motorcycle on the rear service stand and engage the 1st gear. Remove the clip (6). Using a suitable socket wrench, loosen the wheel nut (1). Fully unscrew the nut (1), then re ...
Lubricate the wheel shaft threaded end with prescribed grease. Insert the wheel shaft by matching (a) with pins (b). Install spacer (3) with the conical surface faced to the wheel conical ...
Other materials:
Removing the valves
Raise the rocker arm (3) and remove the opening shim (5) from the valves with a pair of pliers. Push down the closing rocker arms (16) and (4) and the closing shim (7). Remove the half rings (6) from the valves with a magnetic screwdriver. Extract the closing shims (7) from the valve ...
Total distance covered indicator: "odometer"
This function shows the total distance covered by the vehicle (in km or miles depending on the specific application). At key-on the system automatically enters this function. The odometer reading is stored permanently and cannot be reset. If the distance travelled exceeds 199999 km (or 19 ...
Removing of the rear footrests
The removal of the rear footrests is described for the right side but it is the same for both. Undo the pin (13) and remove the rh rear footrest (12) from the frame. Recover washer (8) and the o-rings (9). If necessary remove the rubber footrest (11) of the footrest (12). ...