Ducati Diavel Service Manual: Overhauling the rear wheel
Inspect the condition of the rear wheel.
As the wheel rim has no bearings, it should be supported using the service tool code 88713.2951.
Note
This service tool can also be used to install the wheel on a balancing machine.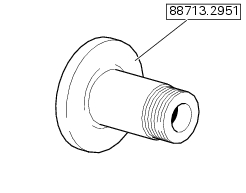 Overhauling the wheel
Inspect the wheel as described below.
Visually inspect the wheel for cracks, scoring and deformation; change the wheel if damaged.
Fit the wheel rim on service tool code 88713.2951 Using the original fasteners.
Using a dial gauge, appropriately supported, measure wheel rim run-out and out-of-round according to the wheel axle (sect. 3 -1.1, Rear wheel).
If the values measured are not within the tolerance limits, renew the wheel.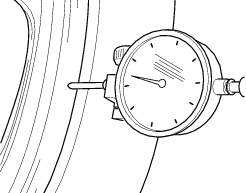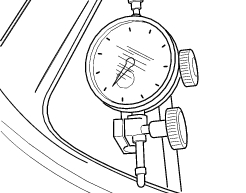 Place the motorcycle on the rear service stand and engage the 1st gear. Remove the clip (6). Using a suitable socket wrench, loosen the wheel nut (1). Fully unscrew the nut (1), then re ...
Lubricate the wheel shaft threaded end with prescribed grease. Insert the wheel shaft by matching (a) with pins (b). Install spacer (3) with the conical surface faced to the wheel conical ...
Other materials:
The hands free module
Introduction The hands free module incorporates the control unit communicating with the other nodes on the motorcycle, the on/off button, the microswitches detecting full lock steering angle (for enabling steering lock engagement) and the steering lock. The module is sealed and its individu ...
Refitting the timing belts
Rotate the pulleys on the timing belt driveshaft until the timing mark on the outer roller is aligned with the mark on the clutch-side crankcase cover. In this condition, the horizontal cylinder piston will be at top dead centre. Install in the alternator cover seat the tool code 88713.20 ...
Check engine oil level
Check the engine oil level through the sight glass (1) on the right-hand side of the oil sump. Stop the engine and allow a few minutes for the oil to settle to a steady level. Oil level must be checked with the vehicle perfectly upright and the engine cold. The oil must be between the m ...