Ducati Diavel Service Manual: Overhauling the rear wheel
Inspect the condition of the rear wheel.
As the wheel rim has no bearings, it should be supported using the service tool code 88713.2951.
Note
This service tool can also be used to install the wheel on a balancing machine.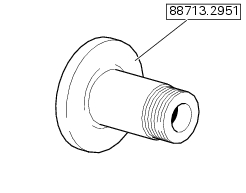 Overhauling the wheel
Inspect the wheel as described below.
Visually inspect the wheel for cracks, scoring and deformation; change the wheel if damaged.
Fit the wheel rim on service tool code 88713.2951 Using the original fasteners.
Using a dial gauge, appropriately supported, measure wheel rim run-out and out-of-round according to the wheel axle (sect. 3 -1.1, Rear wheel).
If the values measured are not within the tolerance limits, renew the wheel.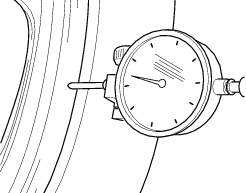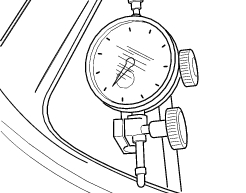 Place the motorcycle on the rear service stand and engage the 1st gear. Remove the clip (6). Using a suitable socket wrench, loosen the wheel nut (1). Fully unscrew the nut (1), then re ...
Lubricate the wheel shaft threaded end with prescribed grease. Insert the wheel shaft by matching (a) with pins (b). Install spacer (3) with the conical surface faced to the wheel conical ...
Other materials:
Replacing of the rear sprocket
Lock the wheel axle rotation. Remove the clip (1). Loosen the locking nut (2) with a socket wrench. Fully unscrew the nut (2) and remove the washer (3) and the flange (5) with the sprocket (17). Collect the spacer (9). Using a mallet, tap the flange (5) with the cush drive dampe ...
Dashboard on tank
Menu 1 (tot, trip1, trip2, trip fuel). Menu 2 (cons.Avg., Cons., Speed avg, air and trip time) if active. Gear / neutral indication. Icon referred to the function below from menu 1. Indication of engine setting for the currently set riding style. Currently set riding style (riding mode) ...
Component assembling position
The throttle valve position sensor is integrated in the throttle valve actuator motor. Location of electric connection for throttle valve actuator motor - tps (throttle valve position sensor). Connection wiring diagram Ccm engine control connection, s throttle valve position senso ...