Ducati Diavel Service Manual: Removal of the front wheel
Support the bike so that the front wheel is raised from the ground.
Remove the front brake calliper (b) by unscrewing the two screws (a) securing the calliper to the fork leg; do not disconnect the calliper from the hose.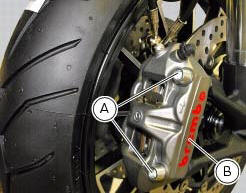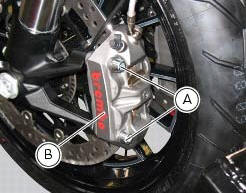 Warning
Do not operate the brake lever when the callipers are removed. This can cause the brake pistons to be expelled.
Loosen and remove the nut (1) on left side of the wheel shaft.
Recover the washer (2).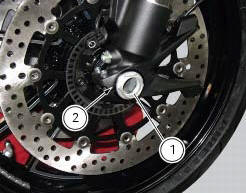 Loosen the wheel shaft screws (8) on the fork legs.
Working from the left-hand side, use a plastic mallet to drive the axle (10) out from the opposite side and remove it.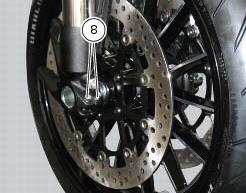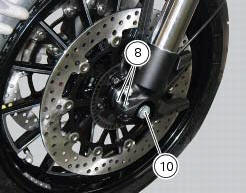 Remove the wheel and recover the spacers (3) and (9).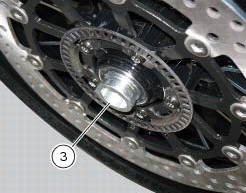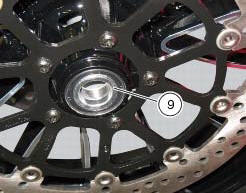 Working from both sides, remove the oil sealing ring (4).
Nut Washer Left spacer Sealing ring Bearing Front wheel rim Inner spacer Screw Right spacer Front wheel shaft Valve Spare parts catalogue Diavel abs front and rear wheel ...
Wheel bearings Before checking the dimensions, check the wear on wheel bearings. Check for wear by hand after cleaning and degreasing the bearings in their seats. Turn the inner race. Check ...
Other materials:
Removal of the expansion tank
Loosen the clamp (6), open the hose guide (a) and slide the hose (7) out of the radiator. Open clamps (14) and release the hoses that pass through them. Loosen the screws (16). Remove the tank (12) with its hoses (7) and (20) and the support (15). Loosen the clamp (19) to r ...
Refitting the gear selector lever
Position the gearbox drum selector fork in the centre of the gear rollers. Position the gear selector lever (21) together with control shaft, spring and plate into the chain-side crankcase half. Insert the screws (18) and (20) with the spacer (19). Temporarily fit gear change lever (or a ...
Instrument panel diagnosis
This function identifies any abnormal vehicle behaviours. The instrument panel activates any abnormal vehicle behaviours in real time (errors). At key-on (at the end of the check) one or more "errors" are displayed in red (only if they are active). When an "error" is t ...