Ducati Diavel Service Manual: Removal of the front wheel
Support the bike so that the front wheel is raised from the ground.
Remove the front brake calliper (b) by unscrewing the two screws (a) securing the calliper to the fork leg; do not disconnect the calliper from the hose.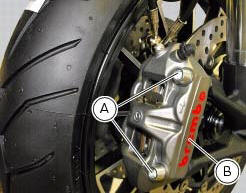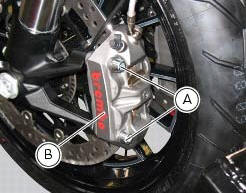 Warning
Do not operate the brake lever when the callipers are removed. This can cause the brake pistons to be expelled.
Loosen and remove the nut (1) on left side of the wheel shaft.
Recover the washer (2).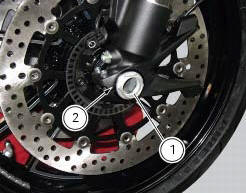 Loosen the wheel shaft screws (8) on the fork legs.
Working from the left-hand side, use a plastic mallet to drive the axle (10) out from the opposite side and remove it.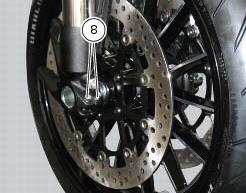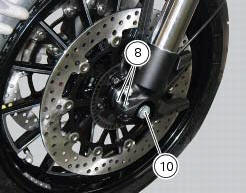 Remove the wheel and recover the spacers (3) and (9).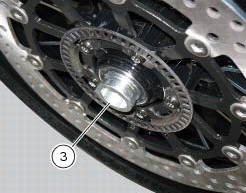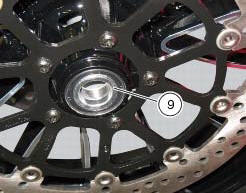 Working from both sides, remove the oil sealing ring (4).
Nut Washer Left spacer Sealing ring Bearing Front wheel rim Inner spacer Screw Right spacer Front wheel shaft Valve Spare parts catalogue Diavel abs front and rear wheel ...
Wheel bearings Before checking the dimensions, check the wear on wheel bearings. Check for wear by hand after cleaning and degreasing the bearings in their seats. Turn the inner race. Check ...
Other materials:
Reassembling the front footrest brackets
To reassemble the brackets (6) and (21) carry out the removal procedure in the reverse order; tighten the screws (7) to a torque of 25 nm +/- 10% (sect. 3 - 3, Frame torque settings). ...
Refitting the cylinder head assemblies
Warning To prevent oil leaks past the contact area between cylinders and crankcase, each time the head is removed, cylinder and piston must be removed as well to clean the mating faces of crankcase and cylinder and restore the spoiled gaskets and o-rings and apply again liquid sealant (sect. ...
Refitting the shock absorber support
If you had removed them, apply recommended grease on the threads of the adjusters (4) and the ring nuts (3) having care not to have grease on the surface (c) of the adjusters. Tighten the adjusters on the ring nut side opposite to that featuring flats until bringing the surfaces as close as ...