Ducati Diavel Service Manual: Recovery in the event of flat active key battery
If the active key battery is running low or is flat, the hands free system shows the relative icon on the dashboard.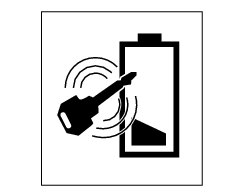 The following image shows the icon appearing on the circular area of the dashboard: this indicates that the active key battery is flat.
For the replacement procedure of the active key battery refer to paragraph "active key" - "replacing the battery in the active key" of this chapter.
The active key still works even if its battery is flat. In this case, however, it functions in exactly the same way as the passive key. During the dashboard switch on procedure, the key must be physically placed on the antenna. To reach the antenna remove the seat (sect. 5 - 3, "Removal of the seat").
Note
After the active battery key is replaced, the low battery icon may still be displayed the next time the dashboard is switched on. This icon will disappear after a few seconds.
When the dashboard is on and the key has been recognised, the hands free attempts to detect the key every 60 seconds. If the engine is off and the on/off switch on the handlebar is turned to "run ...
If any fault occurs during activation of the electric steering lock: for example, if the pin jams, if the handlebar is moved while the pin is deployed or if there is excessive strain on the electri ...
Other materials:
General cleaning
To preserve the finish of metal parts and paintwork, wash and clean your motorcycle at regular intervals, anyway according to the road conditions you ride in. Use specific products, where possible biodegradable. Avoid aggressive detergents or solvents. Use only water and neutral soap to clean ...
Brakes
Separate-action anti-lock brake system operated by hall-type sensors mounted to each wheel, with phonic wheel detection: abs can be disabled. Front Semi-floating drilled dual disc. Braking material: steel. Carrier material: aluminium. Disc diameter: 320 mm. Hydraulically operated ...
Refitting the cooling system hoses and unions
Position the pump/radiator sleeve (22) and the radiator/radiator sleeve (23). Fit sleeve (23) and sleeve (22) to their corresponding fittings (n) and (o), and bring them fully home on collars (p). Note Sleeves (23) and (22) must be oriented so that the grooves (q) match the tabs (r) on fitt ...