Ducati Diavel Service Manual: Recovery in the event of flat active key battery
If the active key battery is running low or is flat, the hands free system shows the relative icon on the dashboard.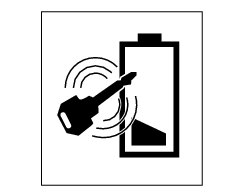 The following image shows the icon appearing on the circular area of the dashboard: this indicates that the active key battery is flat.
For the replacement procedure of the active key battery refer to paragraph "active key" - "replacing the battery in the active key" of this chapter.
The active key still works even if its battery is flat. In this case, however, it functions in exactly the same way as the passive key. During the dashboard switch on procedure, the key must be physically placed on the antenna. To reach the antenna remove the seat (sect. 5 - 3, "Removal of the seat").
Note
After the active battery key is replaced, the low battery icon may still be displayed the next time the dashboard is switched on. This icon will disappear after a few seconds.
When the dashboard is on and the key has been recognised, the hands free attempts to detect the key every 60 seconds. If the engine is off and the on/off switch on the handlebar is turned to "run ...
If any fault occurs during activation of the electric steering lock: for example, if the pin jams, if the handlebar is moved while the pin is deployed or if there is excessive strain on the electri ...
Other materials:
Maintenance indicator
This function indicates that the vehicle is about to or has travelled a distance for which an authorised ducati service centre should be contacted to have the general maintenance or oil change performed. Maintenance table First warning - oil service 1000 km The first warning is activated a ...
Total distance covered indicator: "odometer"
This function shows the total distance covered by the vehicle (in km or miles depending on the specific application). At key-on the system automatically enters this function. The odometer reading is stored permanently and cannot be reset. If the distance travelled exceeds 199999 km (or 19 ...
First warning - oil service 1000 km
The first warning is activated at 1000 km (600 miles) of odometer reading. The (red) warning is activated as a large icon for 10 seconds upon every key-on (1) then as a small warning that remains displayed (2) until it is reset. ...