Ducati Diavel Service Manual: Adjusting the chain tension
Make the rear wheel turn until you find the position where chain is tightest. Set the vehicle on the side stand. Push down the chain at the point of measurement and release. Measure the distance between the "aperture" upper profile and pin centre.
The read distance must be: 9 to 11 mm.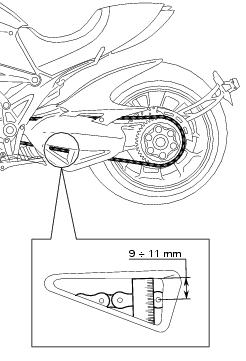 Important
If the drive chain is too tight or too slack, adjust it so that tension reading will fall within specified range.
To adjust the tension remove the rear splash guard (sect. 7 - 13, Removal of the swingarm).
Slacken off the two clamp screws (1) that secure the rear wheel hub to the swingarm.
Fit the hook spanner code 88713.1038 Inserting its tooth in the eccentric hub (2).
Rotate the eccentric hub (2) to obtain the correct chain tension.
Turn counter clockwise to tighten the chain; clockwise to loosen (from chain side).
Important
An incorrectly tensioned chain will lead to accelerated wear of the transmission components.
If the screws (1) are removed, lubricate with specified grease underhead and thread, then tighten the screws (1) to the torque of 35 nm +/- 5% (sect. 3 - 3, Frame torque settings) proceeding with sequence 1-2-1.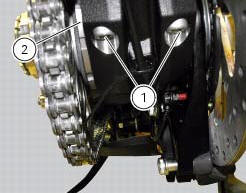 Warning
The correct tightening of the fixing screws of the eccentric hub is essential for the safety of the rider and the passenger (sect. 3 - 3, Frame torque settings).
Refit the rear splash guard (sect. 7 - 13, Refitting the swingarm).
Excessive handlebar play or shaking forks in the steering head indicate that the play in the steering head bearings requires adjustment. Proceed as follows: loosen the clamp screw (1) that holds t ...
Warning Brake fluid is corrosive and will damage paintwork. Avoid contact with eyes and skin. In the case of accidental contact, wash the affected area thoroughly with plenty of running water. Im ...
Other materials:
Checking the engine timing
Set the engine to the configuration described for the "checking and adjusting the valve clearances", previously indicated. Install tool 88765.1188 (G) in the spark plug bore to determine the piston tdc, the gauges (h) on the tool 88765.1518 And the timing check tool (degree wheel (l) 887 ...
Starter motor
Power: 0.7 Kw/12 v Direction of rotation: counter clockwise viewed from power take-off side. The starter motor is highly compact and reliable and therefore rarely gives any type of problem. In case of troubles, ensure that the starter motor cable terminal is properly tightened under the n ...
The immobilizer system
For additional antitheft protection, the motorcycle is equipped with an immobilizer, an electronic system that locks the engine automatically whenever the ignition switch is turned off. The grip of each ignition key contains an electronic device that modulates the output signal from a special ...