Ducati Diavel Service Manual: Adjusting the chain tension
Make the rear wheel turn until you find the position where chain is tightest. Set the vehicle on the side stand. Push down the chain at the point of measurement and release. Measure the distance between the "aperture" upper profile and pin centre.
The read distance must be: 9 to 11 mm.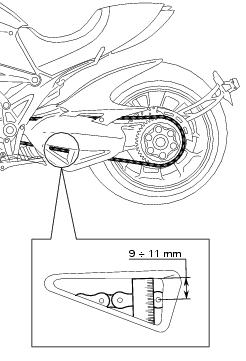 Important
If the drive chain is too tight or too slack, adjust it so that tension reading will fall within specified range.
To adjust the tension remove the rear splash guard (sect. 7 - 13, Removal of the swingarm).
Slacken off the two clamp screws (1) that secure the rear wheel hub to the swingarm.
Fit the hook spanner code 88713.1038 Inserting its tooth in the eccentric hub (2).
Rotate the eccentric hub (2) to obtain the correct chain tension.
Turn counter clockwise to tighten the chain; clockwise to loosen (from chain side).
Important
An incorrectly tensioned chain will lead to accelerated wear of the transmission components.
If the screws (1) are removed, lubricate with specified grease underhead and thread, then tighten the screws (1) to the torque of 35 nm +/- 5% (sect. 3 - 3, Frame torque settings) proceeding with sequence 1-2-1.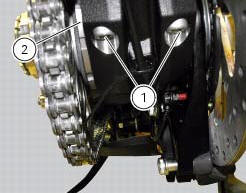 Warning
The correct tightening of the fixing screws of the eccentric hub is essential for the safety of the rider and the passenger (sect. 3 - 3, Frame torque settings).
Refit the rear splash guard (sect. 7 - 13, Refitting the swingarm).
Excessive handlebar play or shaking forks in the steering head indicate that the play in the steering head bearings requires adjustment. Proceed as follows: loosen the clamp screw (1) that holds t ...
Warning Brake fluid is corrosive and will damage paintwork. Avoid contact with eyes and skin. In the case of accidental contact, wash the affected area thoroughly with plenty of running water. Im ...
Other materials:
Dashboard system
The vehicle is equipped with two dashboards: an lcd (1) located on the handlebar containing the key indications (speed, rpm, engine coolant temperature, and clock) and a tft colour display (2) located in the tank fairing displaying trip information (riding style set, odometer, consumption, ave ...
Steering angle adjustment
Loosen the nuts (17) and adjuster screws (16) on both sides of the bottom yoke. Use a 6 to 6.5 Mm spacer (a) fitted to the fork outer tube, or use a gauge. Turn the front forks to the right until the spacer (a) is seated against the frame top tube. Tighten the adjuster screw (16) to ...
Clutch lever
Lever (1) disengages the clutch. It features a dial adjuster (2) for lever distance from the twistgrip on handlebar. The lever distance can be adjusted through 10 clicks of the dial (2). Turn clockwise to increase lever distance from the twistgrip. Turn the adjuster counter clockwise to decrea ...