Ducati Diavel Owners Manual: Adjusting the rear shock absorber
The rear shock absorber has external commands that enable you to adjust the setting to suit the load on the motorcycle.
The adjuster (1, fig. 111) Located on the lower connection holding the shock absorber to the swingarm adjusts the damping during the rebound phase (return).
The knob (2, fig. 112), Located on the left side of the motorcycle, adjusts the preload of the shock absorber external spring.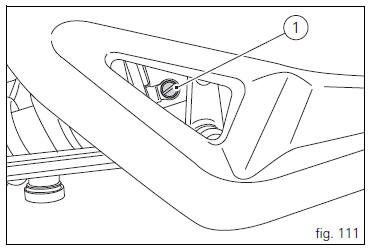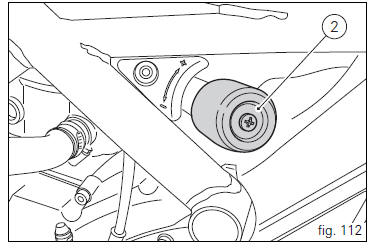 The knob (3, fig. 113) Located on the expansion reservoir of the shock absorber adjusts the damping during the compression phase.
Turning the adjusters (1) or the knobs (2) and (3) clockwise to increase preload damping; they decrease turning them in the opposite direction.
Standard setting; from fully closed (clockwise) loosen: adjuster (1, fig. 111) By 12 clicks; knob (2, fig. 112) Fully open (counter clockwise); adjuster (3, fig. 113) By 25 clicks.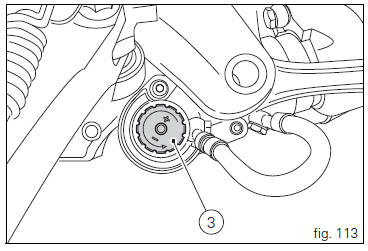 Warning
The shock absorber is filled with gas under pressure and may cause severe damage if taken apart by unskilled persons.
When carrying a passenger and luggage, set the rear shock absorber spring to proper preload to improve motorcycle handling and keep safe clearance from the ground. It may also be necessary to adjust the rebound damping accordingly.
Values specified in the table are indicative and refer to a rider
Weighing (with clothes on) 80-90kg and a passenger
Weighing (with clothes on) 70-80kg.