Ducati Diavel Service Manual: Adjusting the front fork
The front fork used on this motorcycle has rebound, compression and spring preload adjustment.
This adjustment is done using the outer adjusters:
Rebound damping;
Inner spring preload;
Compression damping.
Park the motorcycle in a stable position on its side stand.
Turn the adjuster (1) on fork leg top with a flat screwdriver to adjust rebound damping.
On the carbon model, adjustment is done using the knob (b) on the fork leg, without a screwdriver.
Turn the adjuster (3) on fork leg bottom with a flat screwdriver to adjust compression damping.
As you turn the adjusters (1) and (3), you will hear them click. Each click corresponds to different damping setting.
The stiffest damping setting is obtained with the adjuster turned fully clockwise to the "0" position. Starting from this position, turning counter clockwise, you can count the turns.
To change preload of the spring inside each fork leg, turn the hex. Adjuster (2) with a 22 mm hexagon wrench, starting from the fully open position (clockwise). From reference (a), every full turn clockwise corresponds to 1 mm of preload of the spring, up to a maximum of 15 mm, corresponding to 3 full turns.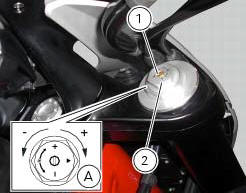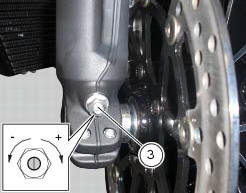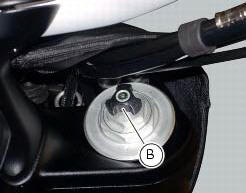 Standard settings, from fully open position, are as follows: compression: 1 turn and a half; rebound: 1 and a half turns.
Spring preload: fully open (counter clockwise).
Important
Adjust both fork legs to same settings.
The position of the gear change and rear brake pedals in relation to the footrests can be adjusted to suit the preferred riding position. To modify the gear change pedal position act in the foll ...
The adjuster (1) located on the lower connection holding the shock absorber to the swingarm adjusts the damping during the rebound phase (return). The knob (2), located on the left side of the m ...
Other materials:
Key-on/key-off using the key on the hands free lock with the active key
Key-on can be performed by pressing the button (7) on the hands free lock (1, fig. 77) And with the presence of the active key (3, fig. 77). Note The active key (3, fig. 77) Has a range of approx. 1.5 M, therefore it must be located within this range. Key-off can be performed by pressing the ...
Trip 2 meter
This function shows the distance travelled since the trip meter was last reset (in km or miles depending on the specific application). Holding the button (1, fig. 14) ? pressed for 3 seconds when this function is displayed resets the trip meter. When the reading exceeds 9999.9, Distance t ...
Removal of the rear shock absorber
Loosen the screws (22) and remove the assembly (34) from the frame. Loosen the screws (27) and remove the tank unit (s) of the shock absorber from the support (19). Hold the lh bush (6) and loosen the rh bush (5) to release the front side of the shock absorber assembly. Un ...