Ducati Diavel Service Manual: Adjusting the rear shock absorber
The adjuster (1) located on the lower connection holding the shock absorber to the swingarm adjusts the damping during the rebound phase (return).
The knob (2), located on the left side of the motorcycle, adjusts the preload of the shock absorber external spring.
Turn the adjuster (1) clockwise to increase damping h; or counter clockwise to reduce damping s.
Standard setting from the fully closed position (clockwise): -unscrew adjuster (1) by 8 clicks.
Spring preload: 15 mm.
The two nuts (2) on the upper part of the shock absorber serve to adjust the preload on the external spring. To change spring preload, slacken the upper locking ring nut. Then tighten or slacken the lower ring nut to increase or decrease spring preload.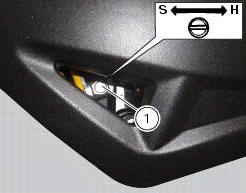 Important
The knob (3) located on the expansion reservoir of the shock absorber adjusts the damping during the compression phase.
Turning the adjusters (1) or the knobs (2) and (3) clockwise to increase preload damping; they decrease turning them in the opposite direction.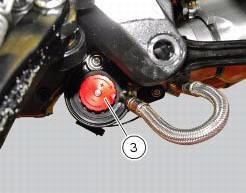 Standard setting: from fully closed (clockwise) loosen: register (1) of 12 clicks; knob (2) fully open (counter clockwise); register (3) of 25 clicks.
Spring preload: 18 mm (max.18 Mm - min.25 Mm
Warning
The shock absorber is filled with high-pressure gas and can cause injuries if inexpertly dismantled.
Important
If the motorcycle is to be ridden with a pillion rider and luggage, we recommend setting the rear shock absorber spring preload to the maximum to ensure the best handling and proper ground clearance at all times. It may also be necessary to adjust the rebound damping accordingly.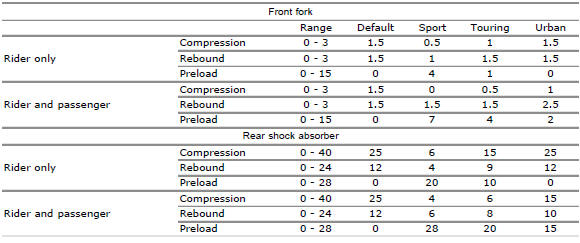 The front fork used on this motorcycle has rebound, compression and spring preload adjustment. This adjustment is done using the outer adjusters: Rebound damping; Inner spring preload; Co ...
Other materials:
Removal of the cylinder/piston assembly
Loosen the clamps (7) and remove the hoses (8) and (9) from the cylinder barrels (10) and from the alternator-side crankcase cover. If damaged, unscrew the unions (6). Note The following procedure is described with the engine removed from the frame and the cylinder head r ...
Default function (resetting ducati default parameters)
This function resets the parameters set by ducati for each riding style. To access the function it is necessary to view the "setting" menu page 48, using button (1, fig. 14) ?" " or (2, fig. 14) ?" " select the "riding mode" function and press the r ...
Disassembly of the oil pump
Hold the oil pump (1) in a vice taking care not to damage the drive gear (12). Warning Make sure that vice jaws are faced with soft material. Remove the plug (14) and extract the spring (16) and by-pass valve (17). Check the condition of the above components. Remove the circlip (6) ...