Ducati Diavel Service Manual: Adjusting the rear shock absorber
The adjuster (1) located on the lower connection holding the shock absorber to the swingarm adjusts the damping during the rebound phase (return).
The knob (2), located on the left side of the motorcycle, adjusts the preload of the shock absorber external spring.
Turn the adjuster (1) clockwise to increase damping h; or counter clockwise to reduce damping s.
Standard setting from the fully closed position (clockwise): -unscrew adjuster (1) by 8 clicks.
Spring preload: 15 mm.
The two nuts (2) on the upper part of the shock absorber serve to adjust the preload on the external spring. To change spring preload, slacken the upper locking ring nut. Then tighten or slacken the lower ring nut to increase or decrease spring preload.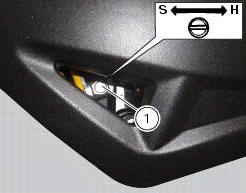 Important
The knob (3) located on the expansion reservoir of the shock absorber adjusts the damping during the compression phase.
Turning the adjusters (1) or the knobs (2) and (3) clockwise to increase preload damping; they decrease turning them in the opposite direction.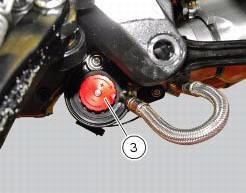 Standard setting: from fully closed (clockwise) loosen: register (1) of 12 clicks; knob (2) fully open (counter clockwise); register (3) of 25 clicks.
Spring preload: 18 mm (max.18 Mm - min.25 Mm
Warning
The shock absorber is filled with high-pressure gas and can cause injuries if inexpertly dismantled.
Important
If the motorcycle is to be ridden with a pillion rider and luggage, we recommend setting the rear shock absorber spring preload to the maximum to ensure the best handling and proper ground clearance at all times. It may also be necessary to adjust the rebound damping accordingly.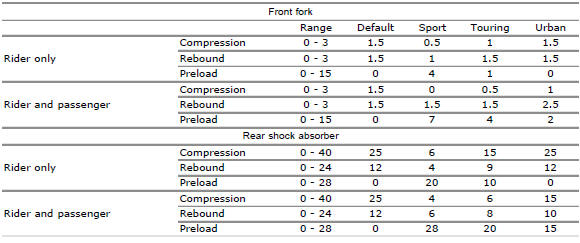 The front fork used on this motorcycle has rebound, compression and spring preload adjustment. This adjustment is done using the outer adjusters: Rebound damping; Inner spring preload; Co ...
Other materials:
Refitting the clutch-side crankcase cover
Clean and degrease mating surfaces on the clutch-side crankcase half cover and crankcase and ensure that locating bush (12) and the o-ring (11), located in correspondence with the oil way, are installed in the crankcase. Apply an even, regular bead of ducati liquid gasket (a) on the mating ...
Recovery in the event of flat active key battery
If the active key battery is running low or is flat, the hands free system shows the relative icon on the dashboard. The following image shows the icon appearing on the circular area of the dashboard: this indicates that the active key battery is flat. For the replacement procedure of t ...
Checking the coolant level
To the specified intervals in the "scheduled maintenance chart" (sect. 4 - 2) Check the coolant level contained in the expansion reservoir, on the right side of the vehicle. The coolant level must be between the max. And min marks on the tank. If the level is low, top up with the recommende ...