Ducati Diavel Service Manual: Adjusting the rear shock absorber
The adjuster (1) located on the lower connection holding the shock absorber to the swingarm adjusts the damping during the rebound phase (return).
The knob (2), located on the left side of the motorcycle, adjusts the preload of the shock absorber external spring.
Turn the adjuster (1) clockwise to increase damping h; or counter clockwise to reduce damping s.
Standard setting from the fully closed position (clockwise): -unscrew adjuster (1) by 8 clicks.
Spring preload: 15 mm.
The two nuts (2) on the upper part of the shock absorber serve to adjust the preload on the external spring. To change spring preload, slacken the upper locking ring nut. Then tighten or slacken the lower ring nut to increase or decrease spring preload.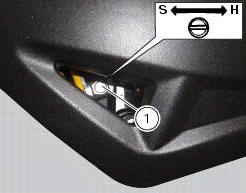 Important
The knob (3) located on the expansion reservoir of the shock absorber adjusts the damping during the compression phase.
Turning the adjusters (1) or the knobs (2) and (3) clockwise to increase preload damping; they decrease turning them in the opposite direction.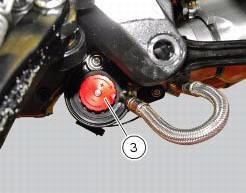 Standard setting: from fully closed (clockwise) loosen: register (1) of 12 clicks; knob (2) fully open (counter clockwise); register (3) of 25 clicks.
Spring preload: 18 mm (max.18 Mm - min.25 Mm
Warning
The shock absorber is filled with high-pressure gas and can cause injuries if inexpertly dismantled.
Important
If the motorcycle is to be ridden with a pillion rider and luggage, we recommend setting the rear shock absorber spring preload to the maximum to ensure the best handling and proper ground clearance at all times. It may also be necessary to adjust the rebound damping accordingly.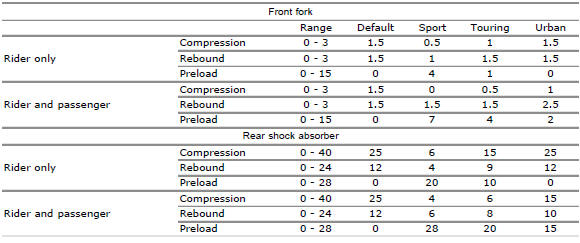 The front fork used on this motorcycle has rebound, compression and spring preload adjustment. This adjustment is done using the outer adjusters: Rebound damping; Inner spring preload; Co ...
Other materials:
Operating principle of dtc
The bbs receives the front and rear speed information from the abs over the can. Then, the bbs sends the vehicle speed information to be displayed on the dashboard over the can. If the tangential speed of the rear wheel exceeds the tangential speed of the front wheel by a given percentage, t ...
Turn indicators (automatic reset)
The instrument panel controls the automatic reset of the turn indicators. After activating one of the two turn indicators, they can be deactivated using the reset button (12, fig. 12). If the turn indicator is not "reset" manually, the instrument panel will automatically switch it ...
Programming/reprogramming keys
The dds diagnosis instrument is required in order to programme/reprogramme the keys. The key programming procedure is launched from this instrument. To start the key programming/reprogramming procedure it is necessary to have at least one of the keys that start the vehicle available (i.E. I ...