Ducati Diavel Owners Manual: Adjusting the front fork
The front fork used on this motorcycle has rebound, compression and spring preload adjustment.
The settings are adjusted using external adjuster screws.
To adjust rebound damping (fig. 109);
To adjust spring preload (fig. 109);
To adjust compression damping (fig. 110).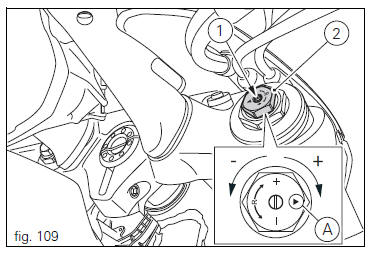 Park the motorcycle in a stable position on its side stand.
Turn the adjuster (1) on fork leg top with a flat screwdriver to adjust rebound damping.
Turn the adjuster (3) on fork leg bottom with a flat screwdriver to adjust compression damping.
Turn the adjusting screws (1 and 3) to adjust the dampening.
Turn the screw all the way in to set the hardest damping (position "0"). Starting from this position, turning anticlockwise, you can count the turns.
To change preload of the spring inside each fork leg, turn the hex. Adjuster (2, fig. 109) With a 22 mm hexagon wrench, starting from the fully open position (clockwise). From reference (a, fig. 109), Every full turn clockwise corresponds to 1 mm of preload of the spring, up to a maximum of 15 mm, corresponding to 3 full turns.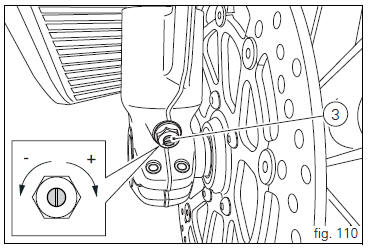 Standard settings, from fully open position, are as follows: compression: 1 and a half turns; rebound: 1 and a half turns.
Spring preload: fully open (anticlockwise).

Important
Adjust both fork legs to same settings.
Passenger grabhandle (1, fig. 107) Is located inside the tail guard; to take it out, remove the seat (see "removal of the seat" on page 119), pull the knob (2, fig. 107) While taking out ...
The rear shock absorber has external commands that enable you to adjust the setting to suit the load on the motorcycle. The adjuster (1, fig. 111) Located on the lower connection holding the shoc ...
Other materials:
Recovery procedure in the event of electric steering lock fault
If any fault occurs during activation of the electric steering lock: for example, if the pin jams, if the handlebar is moved while the pin is deployed or if there is excessive strain on the electric pin actuator motor, the electric steering lock is automatically disengaged and the hands free s ...
Anti-pollution system and auto-adaptive strategy
Efficacy of the catalytic converter and oxygen sensors To comply with current emissions legislation, the diavel is equipped with a trivalent catalytic converter, which oxidises co (carbon monoxide) and hc (unburnt hydrocarbons) and reduces nox (nitrogen oxides). The image shows the exhaus ...
Starter motor
Power: 0.7 Kw/12 v Direction of rotation: counter clockwise viewed from power take-off side. The starter motor is highly compact and reliable and therefore rarely gives any type of problem. In case of troubles, ensure that the starter motor cable terminal is properly tightened under the n ...