Ducati Diavel Owners Manual: Adjusting the front fork
The front fork used on this motorcycle has rebound, compression and spring preload adjustment.
The settings are adjusted using external adjuster screws.
To adjust rebound damping (fig. 109);
To adjust spring preload (fig. 109);
To adjust compression damping (fig. 110).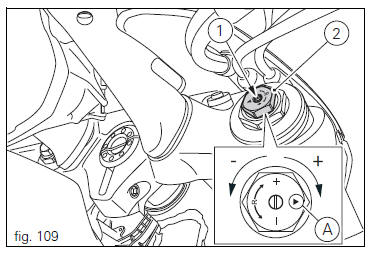 Park the motorcycle in a stable position on its side stand.
Turn the adjuster (1) on fork leg top with a flat screwdriver to adjust rebound damping.
Turn the adjuster (3) on fork leg bottom with a flat screwdriver to adjust compression damping.
Turn the adjusting screws (1 and 3) to adjust the dampening.
Turn the screw all the way in to set the hardest damping (position "0"). Starting from this position, turning anticlockwise, you can count the turns.
To change preload of the spring inside each fork leg, turn the hex. Adjuster (2, fig. 109) With a 22 mm hexagon wrench, starting from the fully open position (clockwise). From reference (a, fig. 109), Every full turn clockwise corresponds to 1 mm of preload of the spring, up to a maximum of 15 mm, corresponding to 3 full turns.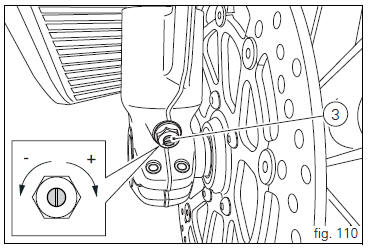 Standard settings, from fully open position, are as follows: compression: 1 and a half turns; rebound: 1 and a half turns.
Spring preload: fully open (anticlockwise).

Important
Adjust both fork legs to same settings.
Passenger grabhandle (1, fig. 107) Is located inside the tail guard; to take it out, remove the seat (see "removal of the seat" on page 119), pull the knob (2, fig. 107) While taking out ...
The rear shock absorber has external commands that enable you to adjust the setting to suit the load on the motorcycle. The adjuster (1, fig. 111) Located on the lower connection holding the shoc ...
Other materials:
Cylinder/piston assemblies
Piston Gudgeon pin circlip Gudgeon pin Set of piston rings Cylinder-crankcase gasket Water pump outlet union Hose clip Horizontal cylinder coolant inlet hose Vertical cylinder coolant inlet hose Cylinder barrel Cylinder head gasket Bush Spare parts catalogue Diavel a ...
Braking
Slow down in time, shift down to engine-brake first and then brake applying both brakes. Pull the clutch lever before stopping the motorcycle, to avoid sudden engine stop. Abs system Using the brakes correctly under adverse conditions is the hardest – and yet the most critical - skill to mast ...
Main bearings
The main bearings have are of the angular contact type with offset inner races so that the balls transmit loads from one groove to the other along straight lines at an angle to the axis of the bearing. The angle-contact ball bearings are designed for bearing combined loading (radial-axial load ...