Ducati Diavel Owners Manual: Adjusting the front fork
The front fork used on this motorcycle has rebound, compression and spring preload adjustment.
The settings are adjusted using external adjuster screws.
To adjust rebound damping (fig. 109);
To adjust spring preload (fig. 109);
To adjust compression damping (fig. 110).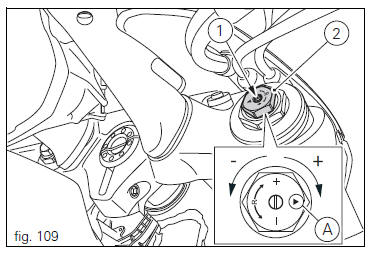 Park the motorcycle in a stable position on its side stand.
Turn the adjuster (1) on fork leg top with a flat screwdriver to adjust rebound damping.
Turn the adjuster (3) on fork leg bottom with a flat screwdriver to adjust compression damping.
Turn the adjusting screws (1 and 3) to adjust the dampening.
Turn the screw all the way in to set the hardest damping (position "0"). Starting from this position, turning anticlockwise, you can count the turns.
To change preload of the spring inside each fork leg, turn the hex. Adjuster (2, fig. 109) With a 22 mm hexagon wrench, starting from the fully open position (clockwise). From reference (a, fig. 109), Every full turn clockwise corresponds to 1 mm of preload of the spring, up to a maximum of 15 mm, corresponding to 3 full turns.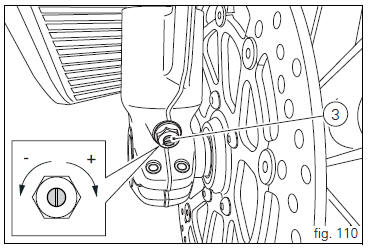 Standard settings, from fully open position, are as follows: compression: 1 and a half turns; rebound: 1 and a half turns.
Spring preload: fully open (anticlockwise).

Important
Adjust both fork legs to same settings.
Passenger grabhandle (1, fig. 107) Is located inside the tail guard; to take it out, remove the seat (see "removal of the seat" on page 119), pull the knob (2, fig. 107) While taking out ...
The rear shock absorber has external commands that enable you to adjust the setting to suit the load on the motorcycle. The adjuster (1, fig. 111) Located on the lower connection holding the shoc ...
Other materials:
Gearchange mechanism
Gearchange pedal Bush Rubber pad Pin O-ring Gearchange lever tie-rod Screw Gearchange lever Washer Screw Ball joint Nut Nut Nut with left-hand thread Lh ball joint Spare parts catalogue Diavel abs l.H. Footrests Diavel carbon abs l.H. Footrests Important B ...
Removal of the handlebar
Unscrew and remove the screws (3) securing the upper clamp (1). Remove the upper clamp (1). Remove the handlebar (4) from its seat on the steering head. To remove the grips (5), refer to the exploded view at the beginning of this chapter. ...
Low beam lights not working
Location of connections and components (A) injection relay; (b) etv relay (throttle valve operating engine); (c) radiator fan relay; (d) hands free relay. Fuses located at the rear left of the vehicle. (1) 10A dashboard; (2) 5a engine control unit; (3) 15a key-sense; (4) 20a injecti ...