Ducati Diavel Service Manual: Changing the clutch fluid
Warning
Clutch fluid will damage painted surfaces if spilled on them. It is also very harmful if it comes into contact with the skin or with the eyes; in the event of accidental contact wash the affected area with abundant running water.
Remove cover (1) and membrane from the clutch fluid reservoir (2) by loosening the screws (3).
Siphon off the fluid from the reservoir (2).
Fill the tank (2) with new oil up to the max. Mark.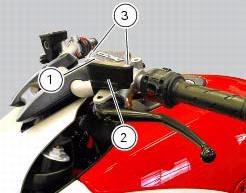 Operate the clutch lever two or three times until the circuit is pressurised.
Hold the lever pulled in towards the grip.
Attach a length of transparent plastic tubing to the bleed valve (4) and insert the other end of the tubing in a container Placed on the floor.
Open the bleed valve (4) to allow fluid to escape.
Warning
During the filling operation, always keep the oil level above the min mark to prevent the formation of air bubbles in the circuit.
Allow the fluid to flow from the bleed valve (4) until it changes colour. Retighten the bleed valve (4) and tighten to a torque of 4 nm +/-10% (sect. 3 - 3, Frame torque settings) and restore the correct level of oil in the tank.