Ducati Diavel Owners Manual: Cleaning and replacing the spark plugs
Spark plugs are essential to smooth engine running and should be checked at regular intervals.
The condition of the spark plugs provides a good indication of how well the engine is running.
Have the spark plugs inspected or replaced at a ducati dealer or authorised service centre; they will check the colour of the ceramic insulator of the central electrode (1): an even brown colour is a sign that the engine is in good running order.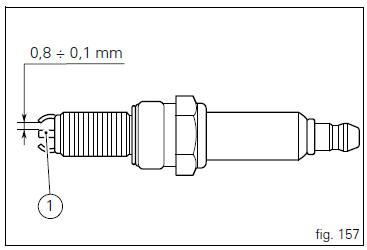 Note
Inspect the centre electrode for wear and check spark plug gap, which should be: 0.8×0.1 Mm.

Important
A gap outside the specified limits will adversely affect engine performance and may lead to difficult starting or erratic idling.