Ducati Diavel Owners Manual: Cleaning and replacing the spark plugs
Spark plugs are essential to smooth engine running and should be checked at regular intervals.
The condition of the spark plugs provides a good indication of how well the engine is running.
Have the spark plugs inspected or replaced at a ducati dealer or authorised service centre; they will check the colour of the ceramic insulator of the central electrode (1): an even brown colour is a sign that the engine is in good running order.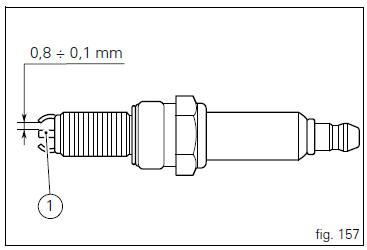 Note
Inspect the centre electrode for wear and check spark plug gap, which should be: 0.8×0.1 Mm.

Important
A gap outside the specified limits will adversely affect engine performance and may lead to difficult starting or erratic idling.
Check the engine oil level through the sight glass (1) on the clutch cover. When checking oil level, the motorcycle should be perfectly upright and the engine cold. The oil level should be between ...
To preserve the finish of metal parts and paintwork, wash and clean your motorcycle at regular intervals, anyway according to the road conditions you ride in. Use specific products, where possible ...
Other materials:
Tail light - number plate holder
Rh tail light Vibration damper mount Spacer Screw Number plate light Screw Screw Plate Number plate holder Nut Screw Rear chain guard Lh tail light Spring washer Vibration damper mount Splashguard Screw Spacer Screw Washer Splashguard (europe - australi ...
Clock setting function
This function sets the clock. To access the function it is necessary to view the "setting" menu page 48, using button (1, fig. 14) ?" "or (2, fig. 14) ?""select the "clock"function and press the reset button (12, fig. 12) To confirm. In the follow ...
Indicator cons. - Instantaneous fuel consumption
This function indicates the "instantaneous" fuel consumption. The calculation is made considering the quantity of fuel used and the distance travelled during the last second. The datum is expressed in "l/100" (litres / 100 km); it is possible to change the units of measurem ...