Ducati Diavel Owners Manual: Checking engine oil level
Check the engine oil level through the sight glass (1) on the clutch cover. When checking oil level, the motorcycle should be perfectly upright and the engine cold. The oil level should be between the two marks next to the sight glass. If level is low, top up with shell advance ultra 4 engine oil. Remove the filler plug (2) and top up to correct level. Replace the filler cap.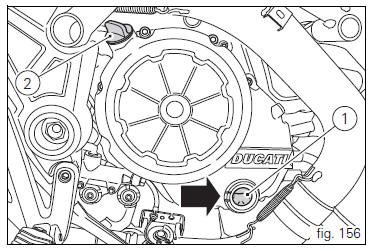 Important
Engine oil and oil filters must be changed by a ducati dealer or authorised service centre at the intervals specified in the scheduled maintenance table reported in the warranty booklet.
Viscosity
Sae 15w-50
The other viscosity values shown in the table can be used if the local average temperature falls within the limits specified for that oil viscosity.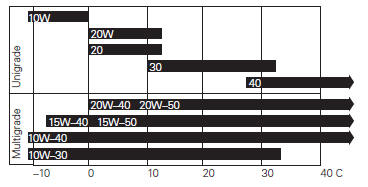 Front tyre pressure: 2.50 Bar (rider only) - 2.6 Bar (with passenger and/or bags) rear tyre pressure: 2.50 Bar (rider only) - 2.6 Bar (with passenger and/or bags) as tyre pressures are affected by ...
Spark plugs are essential to smooth engine running and should be checked at regular intervals. The condition of the spark plugs provides a good indication of how well the engine is running. Ha ...
Other materials:
Refitting the brake disks
Before refitting the brake disc to the wheel, clean all contact surfaces thoroughly and smear a medium strength threadlocker on the threads of retaining screws (5). Operating on the left side, fit the phonic wheel (6). Tighten the fixing screws (5) of the brake disk (7) to the wheel followi ...
Inspecting the final drive
To check the wear of the final drive, visually check the pinion (14) and sprocket (17). If the teeth are found to worn as shown in the figure (dotted line), the sprocket must be renewed. To check the amount of wear on the chain (8), keep the chain taut and measure 16 links. If the l ...
Refitting the fuel tank
If the fuel tank has been disassembled into its component parts, reposition all the parts as shown in the exploded view. In particular: tighten the screws (13) to a torque of 5 nm +/-10% (sect. 3 - 3, Frame torque settings). Refit the tank by inserting its rear side into the pin on the ...