Ducati Diavel Owners Manual: Checking engine oil level
Check the engine oil level through the sight glass (1) on the clutch cover. When checking oil level, the motorcycle should be perfectly upright and the engine cold. The oil level should be between the two marks next to the sight glass. If level is low, top up with shell advance ultra 4 engine oil. Remove the filler plug (2) and top up to correct level. Replace the filler cap.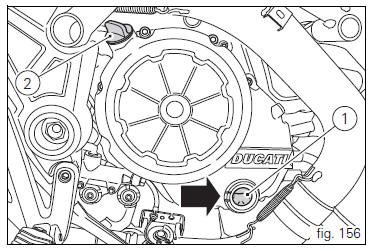 Important
Engine oil and oil filters must be changed by a ducati dealer or authorised service centre at the intervals specified in the scheduled maintenance table reported in the warranty booklet.
Viscosity
Sae 15w-50
The other viscosity values shown in the table can be used if the local average temperature falls within the limits specified for that oil viscosity.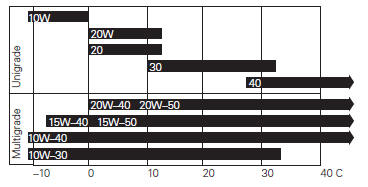 Front tyre pressure: 2.50 Bar (rider only) - 2.6 Bar (with passenger and/or bags) rear tyre pressure: 2.50 Bar (rider only) - 2.6 Bar (with passenger and/or bags) as tyre pressures are affected by ...
Spark plugs are essential to smooth engine running and should be checked at regular intervals. The condition of the spark plugs provides a good indication of how well the engine is running. Ha ...
Other materials:
Refitting the crankshaft/connecting rod assembly
Install the connecting rod assembly (6) and (2) in the crankcase, carry out the shimming and crankcase half reassembly procedure as described in sect. 9 - 9.2, Reassembly of the crankcase halves. Important Make sure that the connecting rods (2) are correctly positioned in the cylinders. Incor ...
How to switch the dashboard on
The dashboard may switched on either from the on/off switch on the handlebar or from the button on the hands free system. With the engine off, the on/off switch is turned to "run off". With the motorcycle and dashboard off, the on/off switch is turned to "run off". To switch the dash ...
Specific tools for the engine
88713.2011.Tool to lock crankshaft at top dead centre 88713.2676 .Wrench for tightening cylinder head nuts 88713.2103 Stand for cylinder head assembly 88765.1657 Timing check tool 88713.1821 Wrench for tightening timing belt tensioner pulley shafts 88713.2861 Camshaft oi ...