Ducati Diavel Owners Manual: Checking engine oil level
Check the engine oil level through the sight glass (1) on the clutch cover. When checking oil level, the motorcycle should be perfectly upright and the engine cold. The oil level should be between the two marks next to the sight glass. If level is low, top up with shell advance ultra 4 engine oil. Remove the filler plug (2) and top up to correct level. Replace the filler cap.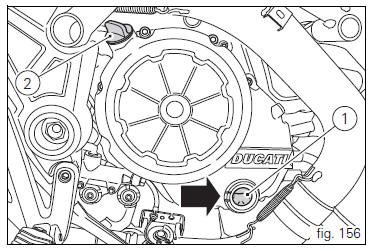 Important
Engine oil and oil filters must be changed by a ducati dealer or authorised service centre at the intervals specified in the scheduled maintenance table reported in the warranty booklet.
Viscosity
Sae 15w-50
The other viscosity values shown in the table can be used if the local average temperature falls within the limits specified for that oil viscosity.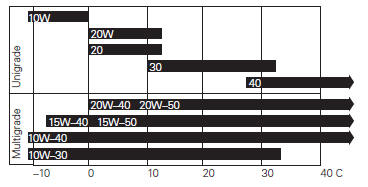 Front tyre pressure: 2.50 Bar (rider only) - 2.6 Bar (with passenger and/or bags) rear tyre pressure: 2.50 Bar (rider only) - 2.6 Bar (with passenger and/or bags) as tyre pressures are affected by ...
Spark plugs are essential to smooth engine running and should be checked at regular intervals. The condition of the spark plugs provides a good indication of how well the engine is running. Ha ...
Other materials:
Clutch
Screw Ring Clutch spring Pressure plate Bearing Circlips Nut Belleville washer Clutch plates Belleville washer Flat ring Clutch centre Spacer Clutch lifter Spare parts catalogue Diavel abs clutch Diavel carbon abs clutch Important Bold reference numbers in t ...
How to turn the motorcycle off
To turn the motorcycle off, turn the switch from "run on" to "run off". The engine stops. To switch the dashboard off, push the on/off switch downwards. When released, the switch automatically returns to the "run off" position. Push the switch downwards to switch the engine off and enter " ...
Resetting turn indicators not possible - accessing dashboard menu not possible
Fault codes Dds: no fault code displayed Dashboard: no fault code displayed Location of connections and components Location of left hand handlebar switchgear set connection. Pin numbering for wiring harness side dashboard connector. Checks Test turn indicator reset button function. Wh ...