Ducati Diavel Owners Manual: Checking engine oil level
Check the engine oil level through the sight glass (1) on the clutch cover. When checking oil level, the motorcycle should be perfectly upright and the engine cold. The oil level should be between the two marks next to the sight glass. If level is low, top up with shell advance ultra 4 engine oil. Remove the filler plug (2) and top up to correct level. Replace the filler cap.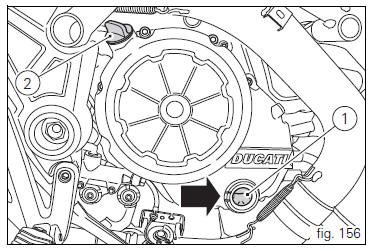 Important
Engine oil and oil filters must be changed by a ducati dealer or authorised service centre at the intervals specified in the scheduled maintenance table reported in the warranty booklet.
Viscosity
Sae 15w-50
The other viscosity values shown in the table can be used if the local average temperature falls within the limits specified for that oil viscosity.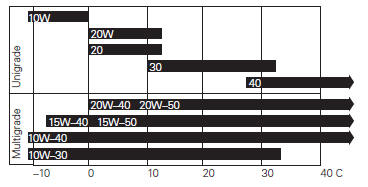 Front tyre pressure: 2.50 Bar (rider only) - 2.6 Bar (with passenger and/or bags) rear tyre pressure: 2.50 Bar (rider only) - 2.6 Bar (with passenger and/or bags) as tyre pressures are affected by ...
Spark plugs are essential to smooth engine running and should be checked at regular intervals. The condition of the spark plugs provides a good indication of how well the engine is running. Ha ...
Other materials:
Fault indication
The dds (diagnosis ducati system) indicates all active errors and all inactive but stored errors gathered by the bbs. A simplified summary of the active errors is also shown in the master dashboard service display when the dashboard is switched on. Simultaneously, the eobd warning light is als ...
Riding mode customisation
This function customises each riding style. To access the function it is necessary to view the "setting" menu page 48, using button (1, fig. 14) ? or (2, fig. 14) ? select the "riding mode" function and press the reset button (12, fig. 12) To go to next page. W ...
Removal of the expansion tank
Loosen the clamp (6), open the hose guide (a) and slide the hose (7) out of the radiator. Open clamps (14) and release the hoses that pass through them. Loosen the screws (16). Remove the tank (12) with its hoses (7) and (20) and the support (15). Loosen the clamp (19) to r ...