Ducati Diavel Service Manual: Clock
This function shows the time.
Time is always displayed as follows: am from 0:00 to 11:59
Pm from 12:00 to 11:59
If battery power is suddenly cut off (batt-off), when battery power is restored and upon next key-on, the clock is reset and restarts operating from "0:00".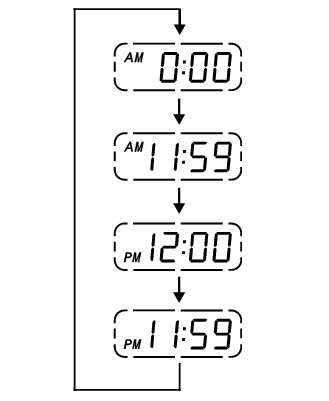 This function displays the rpms. The dashboard receives the engine rpm information and displays it. This information is displayed progressively from the left to the right, identifying the rpms ...
This function indicates coolant indication state. The temperature unit of measure can be selected (C or f). The reading is indicated as follows: if the reading is between - 39C and +39C "lo" is s ...
Other materials:
Disassembly of the gearbox shafts
Place the shaft in a vice in such a way as to facilitate the disassembly operations. Important Take care not to invert the positions of the shims on reassembly: this would potentially lead to jamming when using the gear selector control, making it necessary to reopen the engine crankcase. D ...
Refuelling
Never overfill the tank when refuelling. The fuel level should always be below the rim of the filler recess. Warning Use low-lead fuel with 95 octane rating at origin minimum (see "top-ups" table, page 173). Check that no fuel is trapped in the filler cap recess. ...
Wiring diagram of the hands free system
The diagram illustrates the inputs, outputs and communication lines used by the hands free system. 1I - on/off button placed on the hands free system (located below the plastic cover) 2I - on/off button placed on the bike handlebar rh side 3I - steering position micro-switch 4I - steerin ...