Ducati Diavel Service Manual: Clock
This function shows the time.
Time is always displayed as follows: am from 0:00 to 11:59
Pm from 12:00 to 11:59
If battery power is suddenly cut off (batt-off), when battery power is restored and upon next key-on, the clock is reset and restarts operating from "0:00".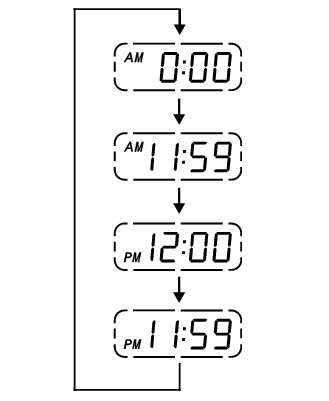 This function displays the rpms. The dashboard receives the engine rpm information and displays it. This information is displayed progressively from the left to the right, identifying the rpms ...
This function indicates coolant indication state. The temperature unit of measure can be selected (C or f). The reading is indicated as follows: if the reading is between - 39C and +39C "lo" is s ...
Other materials:
Refitting the shock absorber support
If you had removed them, apply recommended grease on the threads of the adjusters (4) and the ring nuts (3) having care not to have grease on the surface (c) of the adjusters. Tighten the adjusters on the ring nut side opposite to that featuring flats until bringing the surfaces as close as ...
Removal of the timing belt covers
Loosen the screws (4) securing the central external cover (1) and remove it from the central side. Undo the fixing screws (4) of the external cover (25) and remove it from the vertical thermal unit. Undo the fixing screws (4) of the external cover (3) and remove it from the horizonta ...
Abs disabled information not displayed
Fault codes Dds: displays a fault code described in the description of the abs system. Dashboard: no fault code displayed. Wiring diagram Checks The abs fault indicator indicates the occurrence of one or more faults in the antilock brake system, or if the system itself has been disable ...