Ducati Diavel Service Manual: Rectifier-regulator
The rectifier (1) is placed in the electrical components compartment.
The rectifier/regulator consists of an aluminium casing containing the diodes that rectify the current produced by the alternator. It also contains an electronic device that regulates the current supplied by the alternator in accordance with battery voltage.
If the battery is drained, the current has the value necessary to restore optimum operating conditions of the battery. In contrast, if the battery is fully charged, the current value will be lower.
Note
Control the charger current by using the dds diagnosis instrument (sect. 6 - 11, Diagnostic instruments).
Removal of the regulator

Undo the two fixing screws (1) of the voltage regulator (2) and remove it together with them.
Important
Do not disconnect the battery cables when engine is running because this would cause irreparable damage to the regulator.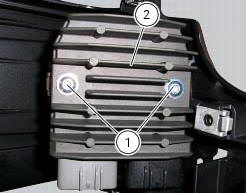 Refitting the regulator
Position the regulator (1) on the support.
Tighten the screws (1) to a torque of 10 nm +/- 10% (sect. 3 - 3, Frame torque settings).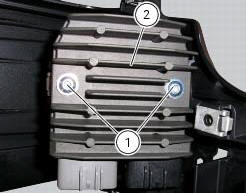 Important
Do not disconnect the battery cables when engine is running because this would cause irreparable damage to the regulator.

Regulator fuse
The 30 a fuse is located inside the solenoid starter in the electrical components compartment.

Remove the fuse cap (a) to reach it.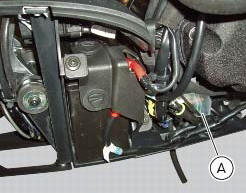 A blown fuse can be identified by breakage of the inner filament (b).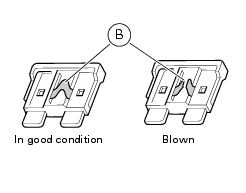 Important
To avoid possible short circuits, replace the fuse in key off condition.
Warning
Never use a fuse with a rating other than the specified value. Failure to observe this rule may damage the electric system or even cause fire.

It is equipped with a 12 v, 430 w generator, consisting of a fixed element (stator, a) located on the generator cover and of a movable element (rotor, b) fixed to the crankshaft. Note To chec ...
Note The references of the elements listed below are those of the "wiring diagram", sect. 6 -1. Electric starting system The key components of the electric starting system are a solenoid (6) and ...
Other materials:
Evaporative emissions canister
Sealing washer Union Hose clip Hose Clamp "T" fitting Hose Support Special screw Rubber mounting Hose Hose clip Evaporative emissions canister Hose Spring Spare parts catalogue Diavel abs evaporative emissions canister Diavel carbon abs evaporative emissions ...
Timing system
Desmodromic (type) with four valves per cylinder, operated by eight rocker arms (4 opening rockers and 4 closing rockers) and two overhead camshafts. It is operated by the crankshaft through spur gears, belt rollers and toothed belts. Desmodromic timing system (fig. 159) Opening (or upp ...
Removing the valves
Raise the rocker arm (3) and remove the opening shim (5) from the valves with a pair of pliers. Push down the closing rocker arms (16) and (4) and the closing shim (7). Remove the half rings (6) from the valves with a magnetic screwdriver. Extract the closing shims (7) from the valve ...