Ducati Diavel Service Manual: Disassembly of structural components and the frame
Before carrying out dimensional checks on the frame, you must remove all the superstructures fitted, referring to the removal procedures outlined in the sections of this manual.
The rear subframes (2) and (3) are structural components of the frame (1).
Both serve to support motorcycle superstructures and must therefore be in perfect condition.
The following flow chart illustrates the logical sequence in which the parts are to be removed from the motorcycle and a reference to the section where the removal procedure is described.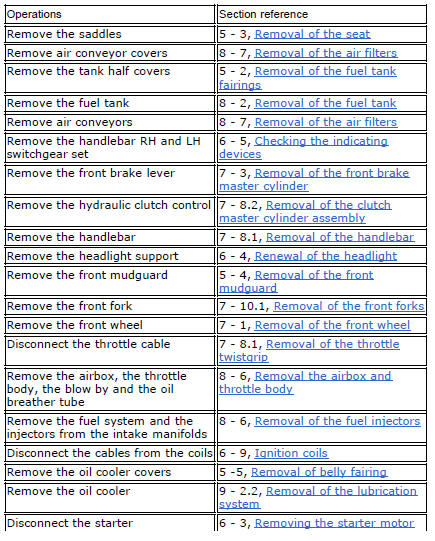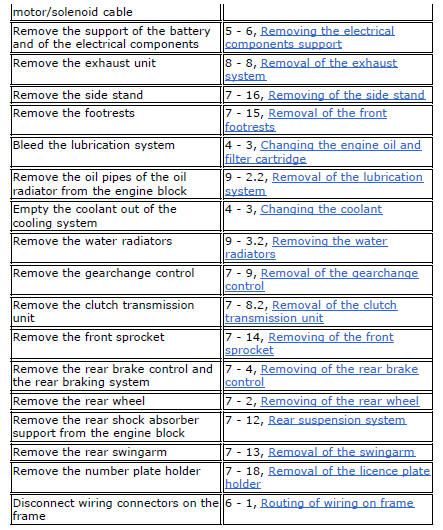 Refitting is the reverse of removal.
Frame Rh subframe Lh subframe Grub screw Nut Special screw Rubber pad Nut Special screw Screw Left-hand bracket Hose clip Hose clip Right-hand bracket Special screw ...
To remove the tool tray unit from the lateral footrests, loosen the screws (40) and remove the splashguard (20). Undo the screws (15) and remove the cover (16). Move the wiring branch ...
Other materials:
Steering angle adjustment
Loosen the nuts (17) and adjuster screws (16) on both sides of the bottom yoke. Use a 6 to 6.5 Mm spacer (a) fitted to the fork outer tube, or use a gauge. Turn the front forks to the right until the spacer (a) is seated against the frame top tube. Tighten the adjuster screw (16) to ...
Front brake lever
Pull the lever (1, fig. 94) Towards the twistgrip to operate the front brake. The system is hydraulically assisted and you only need to pull the lever gently. The control lever (1, fig. 94) Features a dial adjuster (2, fig. 94) For lever distance from the twistgrip on handlebar adjustment. ...
Storing the bike away
If the motorcycle is to be left unridden over long periods, it is advisable to carry out the following operations before storing it away: clean the motorcycle; empty the fuel tank; pour a few drops of engine oil into the cylinders through the spark plug bores, then turn the engine over by hand ...