Ducati Diavel Service Manual: Disassembly of structural components and the frame
Before carrying out dimensional checks on the frame, you must remove all the superstructures fitted, referring to the removal procedures outlined in the sections of this manual.
The rear subframes (2) and (3) are structural components of the frame (1).
Both serve to support motorcycle superstructures and must therefore be in perfect condition.
The following flow chart illustrates the logical sequence in which the parts are to be removed from the motorcycle and a reference to the section where the removal procedure is described.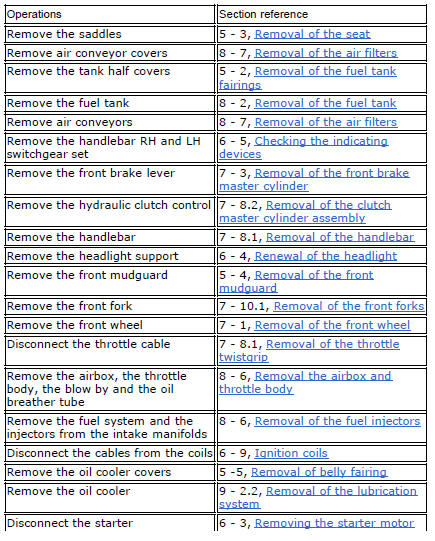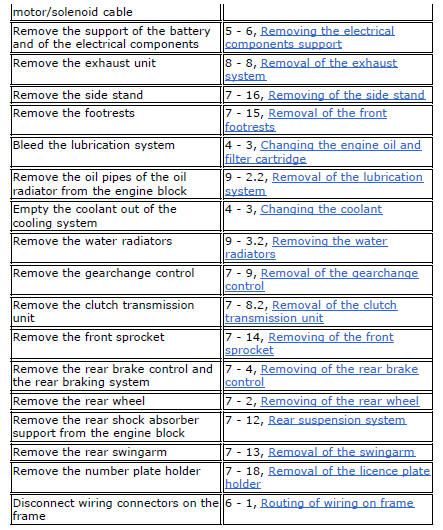 Refitting is the reverse of removal.
Frame Rh subframe Lh subframe Grub screw Nut Special screw Rubber pad Nut Special screw Screw Left-hand bracket Hose clip Hose clip Right-hand bracket Special screw ...
To remove the tool tray unit from the lateral footrests, loosen the screws (40) and remove the splashguard (20). Undo the screws (15) and remove the cover (16). Move the wiring branch ...
Other materials:
Headlight control
This function allows you to reduce current consumption from the battery, by automatically managing headlight switchingoff. At key-on, the high beam and low beam lights are off. When the engine is started, the low beam lights turn on automatically; from this moment, "normal" operati ...
Refitting the primary drive gears and checking backlash
Fully degrease the crankshaft splined end and the corresponding spline on the primary drive gear. Position the spacer (c) onto the crankshaft. Fit the driving gear (b) onto the crankshaft with the oil pump drive sprocket facing the crankcase. Temporarily secure the gear with the was ...
Dashboard on tank
Menu 1 (tot, trip1, trip2, trip fuel). Menu 2 (cons.Avg., Cons., Speed avg, air and trip time) if active. Gear / neutral indication. Icon referred to the function below from menu 1. Indication of engine setting for the currently set riding style. Currently set riding style (riding mode) ...