Ducati Diavel Service Manual: Disassembly of structural components and the frame
Before carrying out dimensional checks on the frame, you must remove all the superstructures fitted, referring to the removal procedures outlined in the sections of this manual.
The rear subframes (2) and (3) are structural components of the frame (1).
Both serve to support motorcycle superstructures and must therefore be in perfect condition.
The following flow chart illustrates the logical sequence in which the parts are to be removed from the motorcycle and a reference to the section where the removal procedure is described.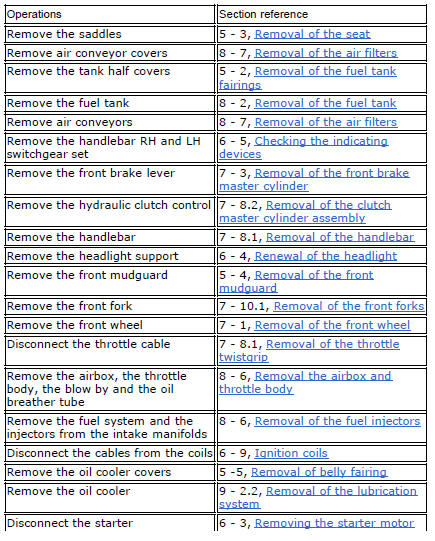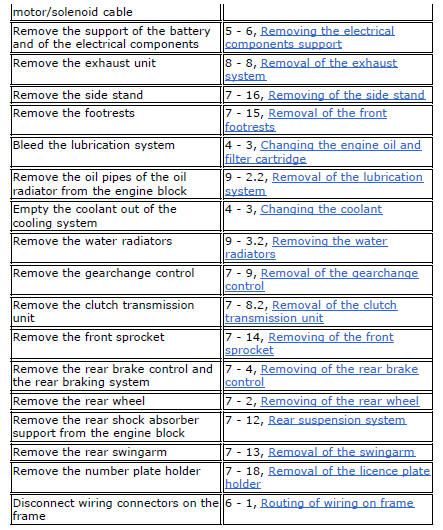 Refitting is the reverse of removal.
Frame Rh subframe Lh subframe Grub screw Nut Special screw Rubber pad Nut Special screw Screw Left-hand bracket Hose clip Hose clip Right-hand bracket Special screw ...
To remove the tool tray unit from the lateral footrests, loosen the screws (40) and remove the splashguard (20). Undo the screws (15) and remove the cover (16). Move the wiring branch ...
Other materials:
Refitting the front sprocket
Grease the o-ring (16) and install it on the front sprocket spacer (15). Fit the spacer, from the o-ring side, on the secondary shaft and drive it fully home against the inner ring of the bearing. Check that the splines of the gearbox secondary shaft and the sprocket are in perfect condi ...
Flexible wiring/hoses positioning
The routing of the abs wiring has been optimised to ensure the minimum obstruction. Each section is designed to prevent interference with parts that might damage wires or cause operating failures when riding. Table a Table b Table c ...
Setting menu
This menu is used to enable/disable and set some motorcycle functions. To access the "setting menu" press and hold button (2) "t" for 3 seconds. Note When within this menu no other function can be displayed. Important For safety reasons, the setting menu can only be accessed when motorcycle ...