Ducati Diavel Owners Manual: Engaged gear indicator
This function displays the gears (1, fig. 25).
The instrument panel receives information and indicates the engaged gear or "n" for neutral.

Note
In the case of a gear sensor "error", a dash "-" (not flashing) will be displayed.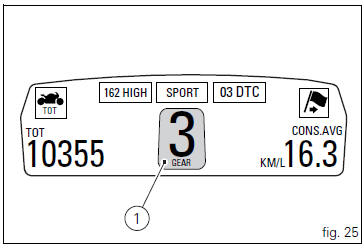 This function shows the external temperature. Display limits: -39C ÷ +124C In the event of a sensor fault (-40C,+125C or disconnected), a string of dashes "- - -" (not flashing) is ...
This function indicates the "riding style" set for the vehicle. Three "riding modes" are available: sport, touring and urban. Each riding mode can be changed using the &quot ...
Other materials:
Refitting the handlebar
Position the handlebar (4) so that the external lower corner of the marks (a) on the handlebar matches the upper internal corner of the lower u-bolts (b) as shown. Apply the recommended grease to the threads and undersides of the heads of the screws (3). Important Position the upper u-bo ...
Renewal of the cooling fan
Loosen the electro-fan retaining screws (15) and (17) and remove the electro-fan (18) from the radiator. Carry out the same procedure for the other radiator's electro-fan. On refitting, position the coolant radiator fan (18) as shown on the fan support (16), so that the three fan holes mat ...
Refitting the water pump
Clean the seat on the cover, any parts you intend to reuse, and the impeller shaft. Then refit as follows. Fit on the impeller (10) shaft the mechanical seal (9) as indicated in the figure. Apply specified lubricant to facilitate the insertion. Bring the mechanical seal fully home on th ...