Ducati Diavel Service Manual: Ground connection locations
The negative cable, which is normally connected to the negative pole of the battery, is fastened to the crankcase. From here, the cable branches off and splits up within the electrical system to carry the ground connection to the different elements in the system.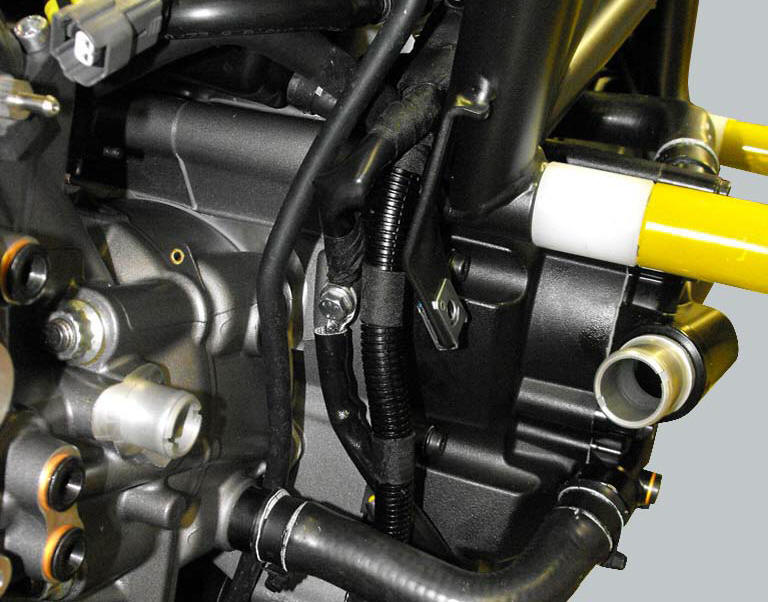 The image shows the ground connection on left side of the engine crankcase.
On the diavel, the +15v (key on power) voltage does not come from a conventional ignition key, but from pin 30 of the hands free relay. This relay is switched to closed state by the hands free unit ...
The front and rear running lights consist of led units with light conduits. As a result, the light source is not visible as the light is diffused through the surface of the light conduit. ...
Other materials:
How to start the engine
With the motorcycle off and the dashboard on, the on/off switch is turned to "run off" With the motorcycle and dashboard on, the on/off switch is turned to "run off". To start the engine, simply push the on/off switch up to "run on" and press the black start button. ...
Refitting the shock absorber support
If you had removed them, apply recommended grease on the threads of the adjusters (4) and the ring nuts (3) having care not to have grease on the surface (c) of the adjusters. Tighten the adjusters on the ring nut side opposite to that featuring flats until bringing the surfaces as close as ...
Removing the valve rocker arms
With the cylinder head in the condition described in the previous paragraph, remove the rocker arms. Unscrew the eight plugs (12) and recover the seals (15). Using an m6 screw, withdraw the shafts (2) of the opening rocker arms (3) on the exhaust and intake sides. Remove the openi ...