Ducati Diavel Owners Manual: Helmet cable

Note
Helmet cable (2, fig. 104) Can be found inside the tool kit, see "tool kit and accessories" on page 141.
Pass the cable through the helmet and insert the end of the cable in the pin (3, fig. 104). Leave the helmet hanging and refit the seat to hold it in place.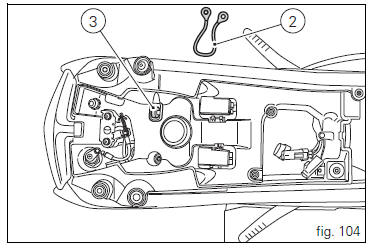 Warning
This device protects the helmet against theft when the motorcycle is parked. Do not leave the helmet attached when riding the motorcycle; it could interfere with your movements and cause loss of control of the motorcycle.
Insert the active or passive key in the lock (1, fig. 102), Turn it clockwise and simultaneously apply downward pressure in the area of the catch to release the pin. Pull the seat backwards to rele ...
Make sure all parts are correctly arranged and secured in the underseat compartment. Insert the mounts (4) of the seat base in the projecting parts (5) of the frame, then push the rear end of the s ...
Other materials:
Refitting the clutch master cylinder assembly
Insert the clutch master cylinder assembly (3) and the clamp (6) on the left handlebar, so that the top mating faces match the mark (z) on the handlebar as shown. Couple terminal (6) to the clutch master cylinder control and fix them with the screws (v). Tighten the retaining screws ...
Spark plugs replacement
Check the colour of the ceramic insulation around the central electrode: an even, light brown colour indicates the engine is in good condition and running at the right temperature. Inspect the centre electrode for wear and check spark plug gap, which should be: 0.8+/-0.1 Mm. Important ...
Specific tools for the engine
88713.2011.Tool to lock crankshaft at top dead centre 88713.2676 .Wrench for tightening cylinder head nuts 88713.2103 Stand for cylinder head assembly 88765.1657 Timing check tool 88713.1821 Wrench for tightening timing belt tensioner pulley shafts 88713.2861 Camshaft oi ...