Ducati Diavel Owners Manual: Helmet cable

Note
Helmet cable (2, fig. 104) Can be found inside the tool kit, see "tool kit and accessories" on page 141.
Pass the cable through the helmet and insert the end of the cable in the pin (3, fig. 104). Leave the helmet hanging and refit the seat to hold it in place.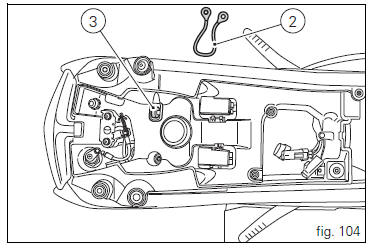 Warning
This device protects the helmet against theft when the motorcycle is parked. Do not leave the helmet attached when riding the motorcycle; it could interfere with your movements and cause loss of control of the motorcycle.
Insert the active or passive key in the lock (1, fig. 102), Turn it clockwise and simultaneously apply downward pressure in the area of the catch to release the pin. Pull the seat backwards to rele ...
Make sure all parts are correctly arranged and secured in the underseat compartment. Insert the mounts (4) of the seat base in the projecting parts (5) of the frame, then push the rear end of the s ...
Other materials:
Headlight control
This function allows you to reduce current consumption from the battery, by automatically managing headlight switchingoff. At key-on, the high beam and low beam lights are off. When the engine is started, the low beam lights turn on automatically; from this moment, "normal" operati ...
Protective apparel
Always wear a helmet. Most motorcycle accident fatalities are due to head injuries. For safety eye protection, gloves, and high top, sturdy boots should also be worn. The exhaust system becomes very hot during operation, never touch the exhaust system. Wear clothing that fully covers your ...
Cleaning and replacing the spark plugs
Spark plugs are essential to smooth engine running and should be checked at regular intervals. The condition of the spark plugs provides a good indication of how well the engine is running. Have the spark plugs inspected or replaced at a ducati dealer or authorised service centre; they will ...