Ducati Diavel Owners Manual: Clutch lever
Lever (1) disengages the clutch. It features a dial adjuster (2) for lever distance from the twistgrip on handlebar.
The lever distance can be adjusted through 10 clicks of the dial (2). Turn clockwise to increase lever distance from the twistgrip. Turn the adjuster counter clockwise to decrease lever distance.
When the clutch lever (1) is operated, drive from the engine to the gearbox and the drive wheel is disengaged. Correct use of the clutch lever is very important in all riding situations, especially when moving off.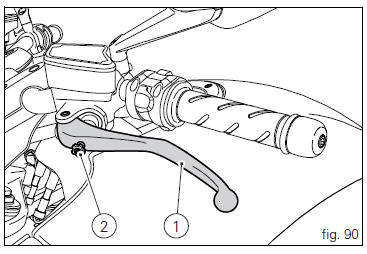 Warning
Any adjustment of clutch lever must be carried out when motorcycle is stationary.

Important
Using the clutch properly will avoid damage to transmission parts and spare the engine.

Note
It is possible to start the engine with the side stand down and the gearbox in neutral. When starting the bike with a gear engaged, pull the clutch lever (in this case the side stand must be up).
Dip switch, light dip switch, two positions (fig. 89): (A) every time pressed down light switches from low beam on to low beam and high beam on . (B) pushed to the side = high beam ...
Red on/off switch. Black engine start button. The switch (1) has three positions: Centre: run off. In this position, the engine cannot be started and all electronic devices are off. Pu ...
Other materials:
Moving off
Disengage the clutch by squeezing the clutch lever. Push down the gear change lever firmly with the tip of your foot to engage first gear. Raise the engine revs by turning the throttle twistgrip while gradually releasing the clutch lever. The motorcycle will start moving. Release the ...
Refitting the gear selector lever
Position the gearbox drum selector fork in the centre of the gear rollers. Position the gear selector lever (21) together with control shaft, spring and plate into the chain-side crankcase half. Insert the screws (18) and (20) with the spacer (19). Temporarily fit gear change lever (or a ...
Adjusting the steering head bearings
Note To adjust the steering bearing clearance, follow what is described in sect. 4 - 3, Adjusting the steering head bearings. If the problems found are not solved, check the wear of steering bearings (6) and replace them, if necessary, as described in paragraph "removal of the steering head c ...