Ducati Diavel Owners Manual: Clutch lever
Lever (1) disengages the clutch. It features a dial adjuster (2) for lever distance from the twistgrip on handlebar.
The lever distance can be adjusted through 10 clicks of the dial (2). Turn clockwise to increase lever distance from the twistgrip. Turn the adjuster counter clockwise to decrease lever distance.
When the clutch lever (1) is operated, drive from the engine to the gearbox and the drive wheel is disengaged. Correct use of the clutch lever is very important in all riding situations, especially when moving off.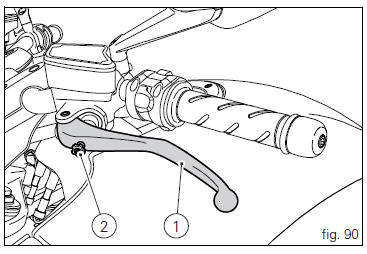 Warning
Any adjustment of clutch lever must be carried out when motorcycle is stationary.

Important
Using the clutch properly will avoid damage to transmission parts and spare the engine.

Note
It is possible to start the engine with the side stand down and the gearbox in neutral. When starting the bike with a gear engaged, pull the clutch lever (in this case the side stand must be up).
Dip switch, light dip switch, two positions (fig. 89): (A) every time pressed down light switches from low beam on to low beam and high beam on . (B) pushed to the side = high beam ...
Red on/off switch. Black engine start button. The switch (1) has three positions: Centre: run off. In this position, the engine cannot be started and all electronic devices are off. Pu ...
Other materials:
Removal of the starter motor idler gear
Slide the gear pin (21) complete with the gear (19) and washer (20). Warning Pay attention to the washer (20) since it may fall inside the crankcase half. At this point, it is possible to remove the starter motor as described in sect. 6 - 3, Starter motor. ...
Storing the bike away
If the motorcycle is to be left unridden over long periods, it is advisable to carry out the following operations before storing it away: clean the motorcycle; empty the fuel tank; pour a few drops of engine oil into the cylinders through the spark plug bores, then turn the engine over by hand ...
Overhaul of the cylinder barrel/piston components
Overhauling the cylinder Check that the walls of the cylinder bore are perfectly smooth. Measure the cylinder bore diameter at 50 mm from the top face and determine the size class to which it belongs in accordance with the values specified in sect. 3 - 1.1Cylinder/piston. Repeat measurement o ...