Ducati Diavel Service Manual: Indicator air - air temperature
This function shows the external temperature.
Display limits: -39C - +124C
In the event of a sensor fault (-40C, +125C or disconnected), a string of dashes "- - -" (not flashing) is displayed and the "vehicle/engine diagnosis - eobd" light comes on.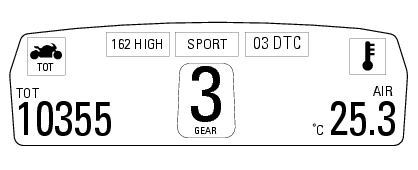 Note
When the vehicle is stopped, the engine heat could influence the displayed temperature.
When the detected temperature drops to 4C (39f), the display warns that the formation of ice is possible. The indication turns off when the temperature rises to 6C (43f).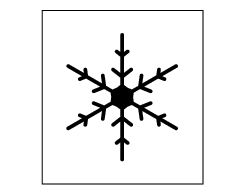 Warning
This warning does not exclude the possibility of icy road sections even at temperatures above 4C (39f); when external temperatures are "low" it is always recommended to ride carefully, particularly on sections that are not exposed to the sun and/or on bridges.
This function shows the vehicle trip time. The calculation is made considering the time travelled since the last trip 1 reset. When trip 1 is reset, the value is set to zero. The active phase ...
This function displays the gears (1). The dashboard receives information and indicates the engaged gear or "n" for neutral. In the case of a gear sensor "error", a dash "-" (not flashing) will ...
Other materials:
Protective apparel
Always wear a helmet. Most motorcycle accident fatalities are due to head injuries. For safety eye protection, gloves, and high top, sturdy boots should also be worn. The exhaust system becomes very hot during operation, never touch the exhaust system. Wear clothing that fully covers your ...
Refitting the water pump
Clean the seat on the cover, any parts you intend to reuse, and the impeller shaft. Then refit as follows. Fit on the impeller (10) shaft the mechanical seal (9) as indicated in the figure. Apply specified lubricant to facilitate the insertion. Bring the mechanical seal fully home on th ...
Refitting the cylinder head assemblies
Warning To prevent oil leaks past the contact area between cylinders and crankcase, each time the head is removed, cylinder and piston must be removed as well to clean the mating faces of crankcase and cylinder and restore the spoiled gaskets and o-rings and apply again liquid sealant (sect. ...