Ducati Diavel Service Manual: Indicator air - air temperature
This function shows the external temperature.
Display limits: -39C - +124C
In the event of a sensor fault (-40C, +125C or disconnected), a string of dashes "- - -" (not flashing) is displayed and the "vehicle/engine diagnosis - eobd" light comes on.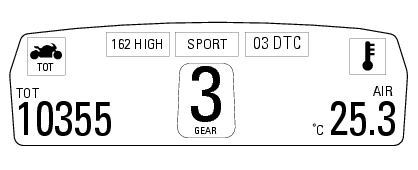 Note
When the vehicle is stopped, the engine heat could influence the displayed temperature.
When the detected temperature drops to 4C (39f), the display warns that the formation of ice is possible. The indication turns off when the temperature rises to 6C (43f).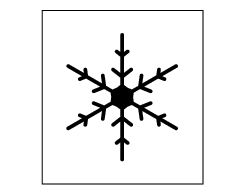 Warning
This warning does not exclude the possibility of icy road sections even at temperatures above 4C (39f); when external temperatures are "low" it is always recommended to ride carefully, particularly on sections that are not exposed to the sun and/or on bridges.
This function shows the vehicle trip time. The calculation is made considering the time travelled since the last trip 1 reset. When trip 1 is reset, the value is set to zero. The active phase ...
This function displays the gears (1). The dashboard receives information and indicates the engaged gear or "n" for neutral. In the case of a gear sensor "error", a dash "-" (not flashing) will ...
Other materials:
Inspection of the gear selector forks
Visually inspect the gear selector forks. Bent forks must be renewed as they may lead to difficulties in gear changing or may suddenly disengage when under load. Use a feeler gauge to check the clearance of each fork in its gear groove. If the service limit has been exceeded, check whether ...
Refitting the flywheel-alternator assembly
Fit the roller cage unit (20) with washer (18) and internal ring (19), applying prescribed grease on the washer (18). Install the roller cage assembly (20) with the washer (18) and inner race (19). Install the flywheel assembly (v) with the gear (21), aligning the notches as shown in ...
Checking the idle speed
Check that the bike is provided with electronic control unit, oem intake and exhaust systems, otherwise fit original components. Connect the inserts of the exhaust gas analyser code 88713.1010 To the outlets on the exhaust pipes, using the fittings (1). Warning Make sure that the thro ...