Ducati Diavel Owners Manual: Parking
Park the stopped motorcycle on the side stand.
Turn the handle completely to the left or right.
If this operation is performed within 60 seconds after the engine stop, the message "waiting for lock" (fig. 120) Will appear on the display of the instrument panel for approx.
5 Seconds.
If you want to enable the steering lock, move the red switch (1, fig. 121) Downward during this interval.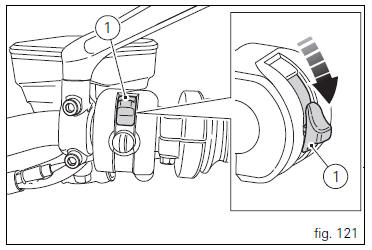 If the steering lock was enabled correctly, the locked steering indication (fig. 122) Will appear on the display of the instrument panel on tank for 5 seconds.
The steering lock disables at key-on.
If the "hands free" system was not able to release the steering, an error message (fig. 123) Will appear on the display.
In this case, it is recommended to turn the vehicle off and on (key-off / key-on) holding the handlebar pressed down to the end stop. If the signal remains (and the steering does not "release") contact an authorised ducati service centre.
In order to make the motorcycle visible at night or in poorly illuminated areas, the "parking" function can be activated within 60 seconds of turning off the vehicle by turning on the front and rear parking lights.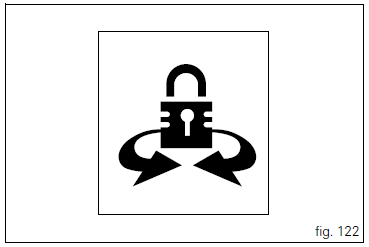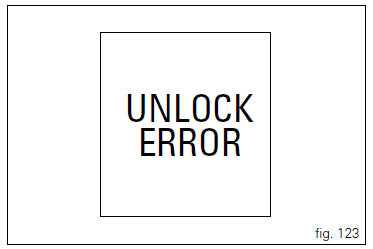 Press (2, fig. 124) For at least 3 seconds: the indication of the activated function (fig. 125) Will appear on the display of the instrument panel on tank for 5 seconds and the lights will remain on for 2 hours. After this period of time, they will turn off automatically.

Note
If there is a sudden interruption in the battery voltage during the "parking" function, the instrument panel will disable this function when the voltage is restored.

Important
The frequent use of this function can considerably reduce the battery charge; it is recommended to use this function only when necessary.

Warning
The exhaust system may still be hot even after engine is switched off; take special care not to touch the exhaust system with any part of your body and do not park the motorcycle next to inflammable material (wood, leaves, etc.).

Warning
Using padlocks or other locks designed to prevent motorcycle motion, such as brake disc locks, rear sprocket locks, and so on is dangerous and may impair motorcycle operation and affect the safety of rider and passenger.